Comic Book Men
Comic Book Men Q&A – Lou Ferrigno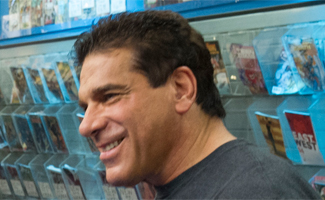 Lou Ferrigno, star of The Incredible Hulk TV series, talks about his appearance on Comic Book Men to train Bryan Johnson and life as a fanboy icon.
Q: How did you first meet Kevin Smith?
A: I met him a few years ago. I've seen him from time to time at different conventions. I've always loved his work. He's a wonderful director. I wish he'd direct some of the Hulk movies because he's very talented.
Q: Whose idea was it for you to train Bryan Johnson?
A: I think it was Kevin's idea. He suggested I go start with Bryan. I thought it was a great idea. That's what I do, I motivate people. That's my whole life. I think I can inspire people based on what I've done myself. I've dealt with obstacles, I know all the pitfalls. I know what it takes to maximize your body, your personal power, your mind and your passion. I'm a product of all that, and I've lived that life myself.
Q: Do you think you were able to motivate Bryan?

A: I think he's a very honest guy. He didn't pull any punches with me. I think he got motivated by me because we talked about the inside, about dealing with the adversity of life, not just keeping a diet and talking about training. He's a very personal guy and a very quiet guy. I really like him and I think he got affected by me. It wouldn't surprise me, down the road, if he did make some changes.
VIDEO: Lou Ferrigno Helps Bryan Johnson Get In Shape
Q: As a fanboy icon, do you spend a lot of time in comic book shops and at comic conventions?
A: I do it when I can. Like right now, I'm doing a tour with the Wizard World comic shows. I love it. That's a great show. I'm doing one next week in New Jersey. I love meeting my fans. It's the fans who make or break you. I just got done filming The Scorpion King IV, so I'm hoping they'll be excited about that.
Q: You've made cameos in recent movies featuring the Hulk. How do you think the new guys compare to you?
A: They're nothing like the original. Even Kevin said on the show, "There will probably never be another human playing the Hulk again." I mean, the CGI ones, they just can't sign autographs like I can.
Q: The guys from the Secret Stash mention the episode of The Incredible Hulk in which you fight a bear. What's your favorite episode?
A: One of them is definitely that one. Because it was so funny, the way it was filmed, me and this real bear. But I think my favorite episode is "Married," when I face Bill Bixby in a dream sequence — it was David Banner and the Hulk finally together. We had never seen them together.
Q: Makes sense, but still funny to think that the two stars of the show never got to act together before that.

A: Nope! That's why that episode is one of my favorites. I did have a chance to appear with Bill again later in a episode called "King of the Beach," but I played a bodybuilder in that one.
Q: Movies, conventions, motivational training. You're a busy guy. You're also a police officer now too?
A: Yep, I'm a deputy sheriff in Ohio. I'm also a deputy sheriff in the Los Angeles Police Department. My father was a lieutenant in the NYPD, so I talked to the sheriff in California and I've been doing it now for about ten years. I take it seriously. It's not like being in a movie, it's the real deal.
Q: How do people react when they're approached by The Incredible Hulk carrying a badge?
A: They recognize me, but then they're taken aback, because they quickly realize I'm serious. I'm doing my job. They have to comply with the officer. This isn't an autograph convention, guys.
Read an interview with Comic Book Men's Kevin Smith
Read More