Comic Book Men
Comic Book Men Q&A – George Perez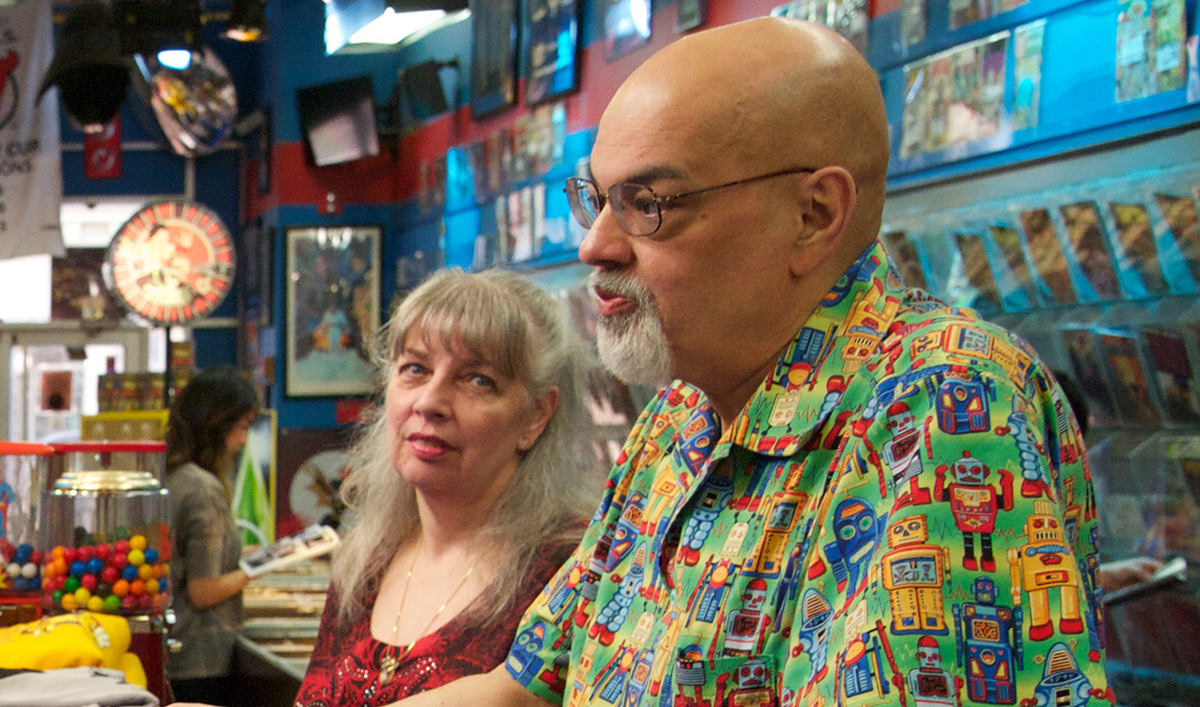 Legendary comic book artist George Perez talks about his guest appearance on Comic Book Men and the character he'd most like to draw.

Q: You've been drawing since you were five years old. When did your love of comics begin?
A: It was probably a little bit before that. I came from a Spanish-speaking household, so that's how I started learning to read English. I picked up a comic and just became totally mesmerized by the words and pictures — I believe it was an early Detective Comic with Batman. Then I started doodling pretty much right after that. It wasn't until I went to my first comic convention while I was in high school that I got to see actual comic book artists and original artwork in real life, up close. That was when I first realized that this is what I wanted to do for a living. Before that, I had these pipe dreams of becoming a comic book artist, but then it became an obsession.
Q: You've drawn so many iconic characters. Do you have a favorite to draw?
A: Oh, no. That's why I do so many team books. Otherwise, I'm choosing my children. Then it becomes like Sophie's Choice. That's the nice thing about team books, you draw one character and then there's another character right around the corner.
Q: Is there a character that you haven't drawn that you would like to?
A: One character I've never drawn professionally — I've done a couple of commission sketches — is the British character Judge Dredd. I just think he's a great visual.
Q: In Episode 3 of Comic Book Men, you do an original Wonder Man sketch for Mike, who lost a beloved Teen Titans poster drawn by you in Hurricane Sandy. Do you have a cherished item that you'd be heartbroken to lose?
A: I had written a story for a Wonder Woman annual which was drawn by Ross Andru, who was the artist at the time when I started reading Wonder Woman. That piece of artwork I still have, and he signed it. It was one of the last things that I got from Ross before he passed on, so I still cherish that. It's a reminder of a man who made this industry great. So when I heard about Mike losing something he cherished and that I could help somehow, I was like, "Sign me up!"
Q: What's the kindest thing anyone has ever done for you?
A: There was a time when I was 23 years old that I thought my career was over because I couldn't move my hand. It turned out it was just a pinched nerve. But Archie Goodwin, the [Marvel] editor at the time, made sure that when I went to the doctor, I was covered for medical bills. I didn't have health coverage then. I try to pay it forward. I do a lot of philanthropic and charity work. Some of my greatest awards, greatest rewards, have not been for comic work, but for charity work. Like art — thank you's for money raised — from children in the Make-a-Wish Foundation. Photos from their wishes coming true. They'll laminate it into a plaque that I can hang on the wall. I cherish those. I was actually the subject of a wish once, a child wanted to meet me. Me, out of all the things he could have wished for. Good gosh, that is something that I will never forget.
Q: Sounds like Kevin Smith was right when he called you a real-life superhero on the show.
A: My parents are both in their eighties and still kicking. My goal is, I don't ever want them to hear, "Oh, your son is George Perez — that guy's a schmuck!"
Q: What was your favorite part of appearing on the show?
A: Seeing the Secret Stash in person. I said to myself "Yes, yes, yes, this is geek heaven!" I could feel myself as a teenager again. But one of the greatest joys of doing Comic Book Men — I was so thankful — was that my wife Carol was able to appear with me. Being able to share that experience with Carol was such a monumental joy for me. It was so kind of them.
Q: Speaking of Carol, she makes all the Hawaiian shirts you're known for, and you gave the Stash guys one with a Lambchop print. What's the story behind that particular shirt?
A: I've worn that shirt to many events and people always ask, "Where did you get that shirt?" As if shirts with Lambchop on them are made in adult male sizes [Laughs]. That's all Carol. She buys the fabric and makes them. That particular shirt was the most photographed shirt at the time, at almost every convention I wore it to. Oh, it was a chick magnet, like crazy!
Q: How did your wife feel about that?
A: Oh, she loved it. She was flattered. When we gave it to the guys at the Stash and they asked both of us to sign it and said they were going to treat it like a sports star jersey, it was such a wonderful moment.
Read More