Comic Book Men
Comic Book Men Q&A – Chris Weir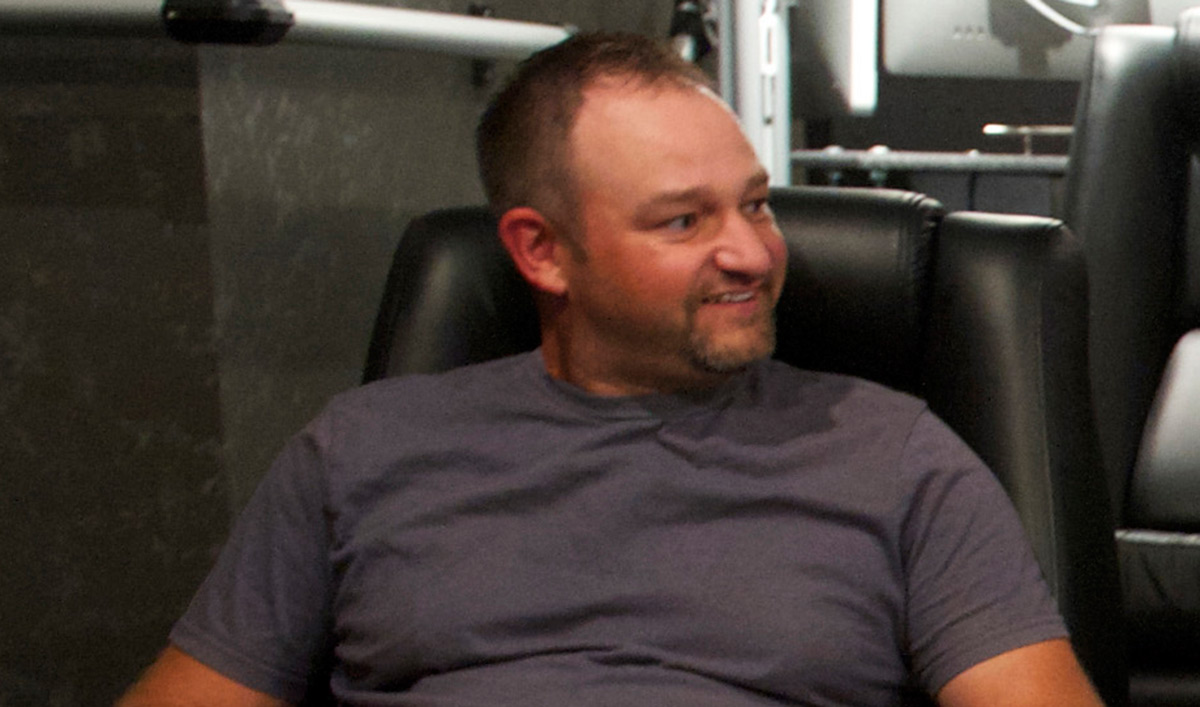 Batman superfan Chris Weir talks about his appearance on Comic Book Men and building his very own Batcave.
Q: What started your fascination with Batman?
A: My dad's youngest brother, my uncle, is two years older than me, so we were more like brothers growing up. He liked the Batman character. We used to run around the yard at my grandparents' house playing Batman a lot. From that point in my childhood, I became fascinated with superheroes.
Q: So were you Batman or Robin when you two would play?
A: [Laughs] When I was little, I was Robin. There was a period when we got a new house and I befriended a neighbor who was a year younger than me. Then I graduated to Batman and he was Robin.
Q: How long did it take to build your Batcave? How much have you spent on it?
A: I worked on and off, two or three nights a week and a couple of weekends here and there, over the course of two and half or three years. I'd say the total project — including electronics, materials, collectibles and everything — is in the neighborhood of $150,000 to $200,000.
Q: Do you have any further upgrades to your Batcave planned?
A: I usually upgrade every two or three years with the electronics. With the theme part of it, it's hard to put into words, because obviously I'm obsessed with the character. But when I think about the room evolving, I'd like it to be tasteful, not just every time I get something with a Batman symbol on it, I slap it in the theater. I try to have a natural evolution of things that makes sense. I treat the theater more like, if Batman had that room as a headquarters, he wouldn't have Batman dolls and stuff of himself inside the room. So I try to keep my collectibles outside of the theater in the rec room, and I try to keep the cave more like a base station.
Q: When did you start collecting Batman memorabilia?
A: Pretty much all throughout my childhood. Now I focus more on high-end collectibles. I don't want to throw away my money on every $2 or $3 action figure that's out there. I try to get neat pictures, neat photographs, animation cells. Like the Hot Toys product I bought on the show — I recently completed the collection of the rest of the figures associated with The Dark Knight trilogy. I'd rather put my money into the more valuable stuff.
Q: What is your favorite Batman item that you own?
A: It's hard to say, they all mean a lot to me for different reasons. As opposed to just having a subscription to everything that comes out, I handpick the items that are coolest to me, so it's hard to narrow it down to just one. But I guess probably the Batsuit, because it's a life-sized representation of what the character means to me. Also, it has that in-your-face "wow" factor when you walk into the theater.
Q: Do you have a Batman memorabilia holy grail?
A: I'm never going to own the '60s Batmobile. I'm realistic in my expectations. So short of having something like that, I don't think so.
Q: What's your fondest memory of being on Comic Book Men?
A: Overall, what really impressed me the most was how down-to-earth the Stash guys were. They didn't show up at the house acting like TV stars. Everyone was so polite, courteous, and respectful to me and my wife and our space. Working with the guys and knowing that this was possibly a once-in-a-lifetime experience to be on TV, they made it a memorable once-in-a-lifetime opportunity.
Read More