Comic Book Men
Comic Book Men New York Comic Con 2013 Panel Provides Sneak Peek at Season 3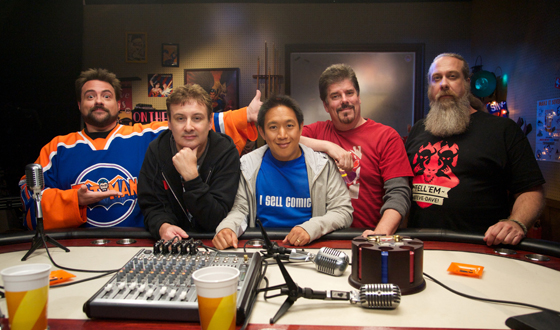 This past Friday, the Comic Book Men cast appeared at the 2013 New York Comic Con to provide fans with a look at what's to come during Season 3.
Executive Producer Kevin Smith kicked off the panel with praise for Comic Book Men's lead-in, The Walking Dead, and shared his excitement for the show's return. Regarding Comic Book Men's new Midnight/11c time slot, Kevin guaranteed, "Our people don't go to sleep until about 2AM." Before bringing out the guys from the Stash, Kevin shared a reel of clips and bloopers from Season 3, highlighted by a fly that invaded the podcast studio, an appearance by Jason Mewes, and a workout session with Bryan and Lou Ferrigno.
Kevin then introduced Walt Flanagan, Michael Zapcic, Bryan Johnson, and Ming Chen, calling them "some of my best friends in the world." Moments after taking his seat, Bryan was complimented on his Breaking Bad Heisenberg T-shirt by a fan in the audience.
The panel kicked off with a fan question about digital comic books and their effect on comic book stores. Walt responded, "You can't discount how important the collectability factor is for people who collect comics. If you have a Hulk #181 on your iPad, you really don't own Hulk #181." Michael agreed, noting, "It's always been about the hunt."
When a fan asked about Ming Chen always being the butt of the the other guys' jokes, the audience broke out in a unanimous "Aww," prompting Bryan to yell, "Spend a day with him!" Ming chuckled and gushed about how much fun it is to work at The Stash.
Kevin discussed his original pitch for the show — "It'll be like Pawn Stars in a comic book store" — and how happy he is that the show actually turned out to be "more like Clerks the reality show," comparing Ming to Elias in Clerks II.
The boys were also asked to pick which female comic character they would be if they had to be one. Kevin Smith chose Invisible Woman, while Michael chose Mystique. Bryan, reluctant to choose at all at first, ultimately went with Gwen Stacy. Ming picked Wonder Woman, while Walt was confident he had made the best decision of all: the new Batwoman.
Comic Book Men returns this Sun., Oct. 13 at Midnight/11c on AMC.
Read More