Comic Book Men
Freakshow Cast Appears on Steve Harvey; Two Comic Book Men Talk to Men's Health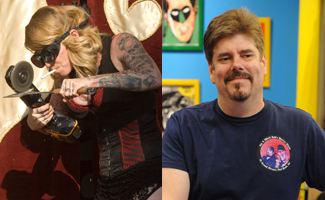 This week, members of the Freakshow cast perform on The Steve Harvey Show, and two of the Comic Book Men are featured on a Men's Health podcast. Plus, The Huffington Post learns about Todd Ray's newest five-legged animal friend. Read on for more:
• Freakshow's Todd, Danielle, Asia, Brianna and Morgue appear on the The Steve Harvey Show, where they perform sword-swallowing, among other stunts.
• Men's Health chats with Comic Book Men's Walt Flanagan and Bryan Johnson, who have "an encyclopedic knowledge of every comic book known to man."
• Freakshow's Todd Ray chats with The Huffington Post about the newest addition to his collection of creatures: a five-legged frog.
• The Chicago Tribune names Kevin Smith as one of 12 "Tweet-worthy" directors, praising his "unique brand of commentary on all things Hollywood — and hockey."
• The Seattle Times includes Freakshow in its Thursday TV picks, asking, "What series has a cast that includes a sword swallower, a body-modification artist, 'The Tallest American' and a shock artist?"
• You can catch Freakshow's Murrugun "The Mystic" at this weekend's Spring Busker Festival in San Diego, reports The San Diego Union-Tribune.
• The Express-Times reports that Comic Book Men's Ming Chen and Michael Zapcic will appear at Parafest 2013 this September in Bethlehem, Pa.
• For a recap of Comic Book Men's Season 2 Episode 14, "Cryptozoic Men," check out ComicBook.com.
Read More