Comic Book Men
Comic Book Men Q&A – Nate Quarry, Creator of Zombie Cage Fighter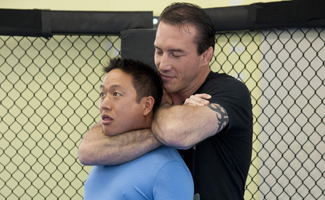 Retired MMA fighter Nate Quarry guest stars in Season 2, Episode 9 of Comic Book Men, "The Clash at the Stash." In an interview with AMCtv.com, Quarry talks out about creating his own comic book and who he was rooting for when Jay and Silent Bob squared off in the octagon.
Q: What inspired your comic Zombie Cage Fighter?
A: My own life. It's really just my biography with zombies thrown in. It's not really about fighting. It's not really about zombies. It's about what a father is willing to do to provide for his little girl. And that's been my journey more than anything.
Q: Why did you choose zombies as the antagonists?
A: It's a metaphor for life. People struggling, people seeming to be losing faith, like it's just you against the world. It's like walking through a world of zombies. So with Zombie Cage Fighter, I'm an old, busted up fighter, struggling to put food on the table. Then I get introduced to the underground world of zombie cage fights. If I do well, then maybe I'll make money and I'll get my little girl out of the bad neighborhoods. If I lose, then the next week, I'll be on the wrong side of the cage.
Q: How did Blair Butler, former co-host of Attack of the Show!, become your co-writer on Zombie Cage Fighter?
A: A buddy of mine put me in a video game called Left for Dead 2. We launched the game on Attack of the Show! and they had me back a few times for their cage-fighting segments. From talking to Blair and getting to know her, I found out that she's got a passion for fighting and for comic books. Then I read her comic, Heart. The story was great. It went through all the emotions of winning a big fight and losing a big fight and showed me what she was capable of. So I asked her if she could help me make a comic book. It was a pleasure working with her. She's just brilliant.
Video: Jay and Silent Bob Fight
Q: Have you always been a comic book fan?
A: Yes, ever since I was a little kid. I was raised in a very strict, religious household as a Jehovah's Witness. I was never really allowed to live my dreams. I couldn't play sports or have any friends outside of the church, so I would get comic books and I would live through them. I would fantasize that one day that would be my life: I would have grand adventures and be able to travel the world.
Q: Which comic was your favorite?
A: One was Marvel Two-in-One. The Thing fights this intergalactic boxer who has come to Earth to see if we have any champions worthy of facing him, and if not, he's going to destroy the entire planet. One by one, he goes down the line of champions and beats them all. Then finally, he fights the Thing. The Thing gets beaten up, but has such heart. He's like, "You can break my bones, but you'll never break my spirit." So the intergalactic boxing champion decides that since there's even one person like that on the planet, it's worth saving. I would take that comic with me to my fights and say to myself "If somebody beats me because they're better than me, so be it. But they're never gonna break my spirit."
Q: What made you decide to bring Zombie Cage Fighter to the guys at the Stash?
I've been a huge fan of Kevin Smith since Clerks. I was still a Jehovah's Witness when Clerks came out, and you are not allowed to see R-rated movies. So here I am breaking this huge rule and basically condemning myself to hell. But it just blew me away, that whole world. Then hearing Kevin's story about how he sold his comic book collection to finance the movie, bringing in all his friends to work on it, shooting at night so they could use the shop — all of that just motivated me once again. These are the sacrifices you make to follow your dream.
Q: In Episode 209, you set up a cage fight between stand-ins for Jay and Silent Bob. If they actually squared off in the octagon, who would win?
A: That one's really tough to call. Silent Bob's got the size. Also, the guys that are the quiet ones are always thinking, strategizing about how to beat the guy. But Jay's got that crazy, wiry strength. A guy like that, you could bend his limbs all over the place and they would never break. It was really going to come down to who had the biggest heart… and that, you can never tell.
Q: What was your favorite part of appearing on Comic Book Men?
A: Really getting to know the cast there, getting to know the guys at the Secret Stash. I could tell when I first met them, they didn't know what to think of me. Am I this typical jock a-hole? I feel like I should carry around my driver's license from when I was 16 to show people. I was 140 pounds back then, with massive coke-bottle glasses and clothes bought from garage sales. I guarantee even Ming could have kicked my ass back then.
Read More