Comic Book Men
Comic Book Men, Freakshow and Immortalized to Air Thursday Nights Beginning February 14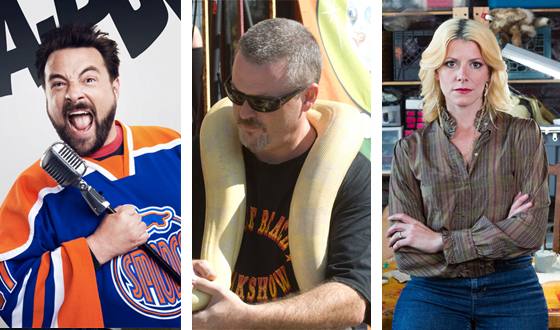 AMC announced today a new programming night for its original unscripted series. The network will air the final eight episodes of Comic Book Men Season 2 along with the premiere seasons of Freakshow and Immortalized on Thursday nights beginning Feb. 14. The new programming night will kick off at 9/8c with Comic Book Men Season 2, executive produced by Kevin Smith, Charlie Corwin's Original Media and Elyse Seiden, followed by Freakshow, executive produced by Greg Johnston from Endemol USA and Todd Ray from Living Wonders, at 9:30/8:30c and Immortalized, executive produced by Go Go Luckey Entertainment, at 10/9c. The second seasons of unscripted series The Pitch and Small Town Security as well the recently greenlit Road Show (working title) will also air on Thursdays later in 2013.
"With an expanding slate of unscripted series, it makes perfect sense for us to create and build a new night for these great stories, in the same way we have made Sundays a true destination for our award-winning original dramas," said Joel Stillerman, AMC's EVP of original programming, production and digital content. "We are excited to have Thursday night as the new home for unscripted on AMC, as we continue to showcase distinct storytelling that explores authentic characters and original worlds."
Comic Book Men, which critics called "genial, good-natured, eccentric and dry-witted" (Newsday) and "a celebration of the deeply particular personalities involved when geeky merchandise changes hands," (The New York Times), follows Smith and his crew of fan boys turned pop culture experts who live, work and breath comic books. In the new season, which premiered Sun., Oct 14, the guys of Smith's iconic comic shop, Jay and Silent Bob's Secret Stash, geek-out over rare memorabilia and discover treasures of the comic collecting world. Realize your inner superhero and satisfy your fan boy fantasies by watching Smith, Walt, Mike, Bryan and Ming tape their outrageous podcasts where they tackle the burning questions all fans grapple with: what is the ultimate superpower and how best to relive the nostalgia of your childhood.
Freakshow is a family drama that centers on former music producer Todd Ray as he pursues his dream to own and operate his own 'Freakshow' on the famed boardwalk in Venice Beach, CA. The series follows Todd, his wife Danielle and their two kids, Asia and Phoenix, as they own and operate the world famous Venice Beach Freakshow, a museum that exhibits strange creatures, living oddities and human attractions personally procured by Todd. This business is Todd's personal passion and he has bet it all on making it work. It takes a huge imagination and tremendous perseverance to keep the business afloat, but through it all Todd's enormous respect for all humanity and his big heart make this something wildly different from just another workplace drama. The series consists of eight, half-hour episodes.
Immortalized delves into the passionate detail and artistic expression of one of the world's oldest art forms: Taxidermy. Each episode will feature one of four highly regarded "Immortalizers" facing off against a lesser known "Challenger" in a competition to create a piece to be judged on three criteria: originality, workmanship and interpretation of the designated theme. Featured for the first time on the small screen, taxidermy's new breed of Rogue artists will have the opportunity to showcase their creative interpretation versus that of a traditionalist as they attempt to perfect this centuries-old art form in a battle of glory and pride. The series consists of eight, half-hour episodes and is produced by Gary Auerbach, Julie Auerbach, and Tina Gazzerro.
Read More