Comic Book Men
Now on Android, iPhone, iPad and Kindle Fire – Comic Book Men's Season 2 Premiere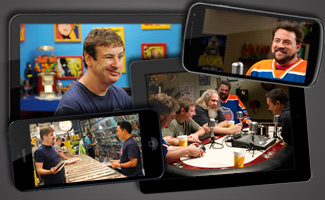 Attention fans of AMC's Comic Book Men! For a limited time, you can watch the Season 2 Premiere on your Android phone, tablet, iPhone, iPad and Kindle Fire via the AMC Mobile app. The AMC app gives you behind-the-scenes videos, sneak peeks and cast interviews for Comic Book Men as well as the show's on-air schedule.
Download AMC Mobile for free on the following devices: Android smartphone, Android tablet, iPhone, iPad or Kindle Fire.
Be sure to catch new episodes of Comic Book Men Sundays at 11:30/10:30c on AMC.
Read More