Comic Book Men
NY Times Reports on Comic Book Men Guest Stars; Kevin Smith Talks to NPR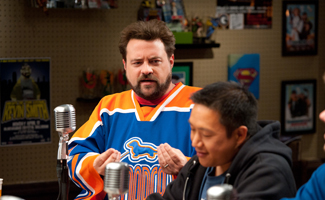 This week, The New York Times reports on Stan Lee's Comic Book Men appearance, and Kevin Smith recommends his favorite films and TV shows to NPR. Plus, Wired chats with Michael Zapcic. Read on for more:
• The New York Times visits with Season 2 guest star Stan Lee on the set of Comic Book Men.
• Kevin Smith shares his movie and TV recommendations, including The Walking Dead and Talking Dead, with NPR.
• Wired interviews Comic Book Men's Michael Zapcic — a "living comic book encyclopedia" — about expensive comic book art.
• ScienceFiction.com's Season 2 preview notes that "the guys are the same old lovable fanboys we've come to know. And yes, Ming is still the butt of most of the jokes."
• Hollywood.com features an exclusive photo from Season 2, commenting, "Take a moment to absorb the awesomeness. Then get ready for some serious nerdiness this October."
• Patch.com reports that Ming Chen and Michael Zapcic conducted a podcast and judged a costume contest at Monmouth County New Jersey's first-ever Comic-Con.
• CBS' Channel 2 recommends celebrating National Comic Book Day by watching Comic Book Men, while Patch suggests visiting Jay and Silent Bob's Secret Stash to pick up some comics.
• Talk TV World, The Daily Blam!, The Fire Wire, IMDb and TV by the Numbers all highlight Comic Book Men's Oct. 14 return.
Read More