Comic Book Men
Before Heading to Comic-Con 2012, Kevin Smith Talks Comic Book Men with AMCtv.com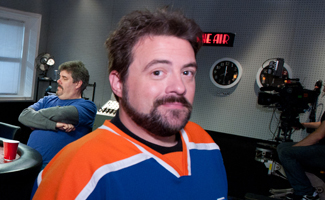 Comic Book Men's Kevin Smith will be appearing at Comic-Con 2012 this Sat., Jul. 14. In this exclusive interview with AMCtv.com, he talks about about his favorite moment from the first season of Comic Book Men and why he decided to unleash his friends on a television audience.
Q: Actor, filmmaker, podcaster, author, and now TV show producer. You're a busy guy…
A: I think it's because I'm terrified of dying. It's like what I've been doing for the last 20 years has been predicated on the past. All those stories I tell are about things that happened to me in one way or another. So when you spend almost an equal amount of time building those experiences, and then almost an equal amount of time exploiting them, time runs by quickly. But then one day, it's like, "Oh sh*t, man, we've been having such a good time, I didn't notice there's now less ahead than there is behind." And then suddenly, at least for me, the output increases dramatically.
Q: With things like SMODcast and Comic Book Men, has reality superseded fiction for you as a storyteller?
A: Yeah. But for years, most of my flicks were kind of veiled versions of my friends. In Clerks, Bryan Johnson is Randall. Mallrats, Walt [Flanagan] is Brody. So now it's like, ladies and gentlemen, let me just pull back the curtain and introduce you to the people behind those characters. I've never laughed harder in my life than the times I sit around with a bunch of friends, like Bryan, like Walt, my wife Jennifer, talking candidly. So in the case of Comic Book Men, you turn the cameras on and that essence is unleashed.
Q: Is that the reason you wanted to do Comic Book Men — to unleash Brian and Walter's essence on the world?
A: I've known Bryan and Walter for decades, so I know how funny they are. But the show really illuminated these guys for people. After the first show, I can't tell you how many people — people close to me, from my wife to my in-laws to my mother — all said "We've known Walter for almost 20 years, I've never heard that man say as much as he did on television. He's so funny!"
VIDEO: The Comic Book Men Discuss Their Favorite Super Power
Q: You were already famous before the show began, but the Secret Stash guys weren't. Has being on the show changed their lives?
A: Bryan gets recognized a lot wherever he goes, especially since he's got that beard. People are like, it's either the dude from ZZ Top or it's that guy from Comic Book Men — or it's fat Jesus. But the good news is, people aren't like, "You're the dude from that show, I want to punch you in the face!" Also, Walter was telling a story on the podcast about these kids who came to check out the Stash. While Walter was ringing someone up, another kid opens the door, yelling "Guys, I just saw Ming Chen in Starbucks!" Everyone went running out of the store like it was the Beatles. And Walter was like, "I never in a million years imagined anyone could be that excited by the presence of Ming Chen. What kind of world have we entered here?"
Q: What do you hope people can learn from the show?
A: We've gotten some slack from comic book store owners. I got this tweet, "Now I have new people coming into my store asking me to buy their old sh*t. Thanks, Comic Book Men." But the way I look at it, you're a retailer and you have new, fresh faces coming into your store and you're complaining? If you can't sell that person something, that's your fault buddy. You just got your dream, new people in your store. That's good… So I hope that's something the grousers can see.
Q: If you had to pick just one, what was your favorite moment from the show?
A: Hands down, it's Bryan showing his tattoo to his niece. That was a wonderful piece of television, and I was insanely proud to have anything to do with that. All I had to do with it was to say "You need to shoot that." It was all Bryan's idea. By the time I saw that scene, I rolled a tear. I was like, that's beautiful.
Q: Any lessons learned from the show?
A: The thing that we thought would be the most important turned out to be the least important: We thought the transactions would be the hook. But what the audience seemed to like more was the conversations, in the store and on the podcast. The audience seemed to be more into just seeing the item and have it spark discussion. That to me is more exciting, because it's more honest. It's like a walk down memory lane, or adult show and tell.
Q: You've said that your holy grail is the Sandman statue you sold to make Clerks. Any leads on finding that after mentioning it on-air?
A: Not yet. In the Harry Potter universe, there's the concept of the Pensieve, where when your brain is too full, you can drop some memories into this thing to make room for new ones. Thanks to Comic Book Men and Twitter, I've now got a worldwide Pensieve. I can drop the memory of this statue that I love from my childhood. Then, I can let someone else find it for me… and hopefully someone will.
Click here to read another interview with Kevin Smith.
Read More