Comic Book Men
At Comic-Con 2012, Kevin Smith Reveals the Secret Origins of Comic Book Men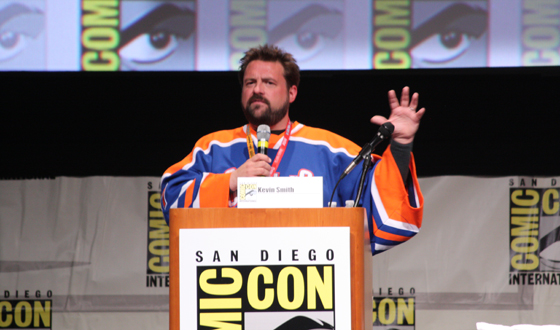 Every year, Kevin Smith thrills the San Diego Comic-Con masses with a spotlight panel. In 2012, the owner of Jay and Silent Bob's Secret Stash took over the biggest room (massive Hall H) on the biggest night (Sat., Jul. 14), packing the entire hall to regale fans with tales both dirty and clean and to talk a bit about AMC's Comic Book Men.
Actually, a lot about Comic Book Men, as the very first audience question was about whether Smith expected there to be a season two, which AMC announced yesterday will premiere Sun., Oct. 14 at 11:30/10:30c. "I did not expect it to get a second season, to be honest with you," said Smith.
Smith then revealed the initial origins of the show to the crowd. Originally he talked to AMC about how "we'll go on a nationwide hunt for a comic book store — but never did I think of my friends." Told he needed to put together a pilot, Smith suggested using his own store to save money. He let another one of Comic Book Men's executive producers, Charlie Corwin, listen to a Tell 'Em Steve Dave podcast, and Charlie said, "You're an idiot, this is why your career has never taken off. They know their s**t, but they're making fun of each other."
So Smith called Walt Flanagan to pitch the idea to him. "AMC wants to do a reality show based on the Secret Sta… he didn't even let me finish," Smith told the crowd. According to Smith, Walt said, "'F**k that, I don't want to be Snooki." "I respect him, but who doesn't want to be Snooki? Snooki did very well," joked Smith.
Smith continued to talk about Flanagan's career and how Walt always wanted to run a comic book store, noting, "He built himself a platform to do a TV show he did not want to do. He built his own hell!" Smith finally sold him on the idea by saying that the show would work as a commercial for the store.
The next person Smith tried to convince was Bryan Johnson, who, according to Smith, said, "'You're asking me to do TV now? I'm as fat as you!' And that hurt a lot!" Kevin sold Bryan on the show by telling him he could make enough money to get a knee operation.
As for the development of the show, Smith said he felt that the actual show came out far better than his initial idea. "What's on TV is way better! Thank god I wasn't involved. The way I could have pitched this was, oh, it's Clerks the reality series."
Moving on to talk about the ratings of the show, Smith said that going in, he didn't have high expectations: "The entire time, I said that even if it doesn't go past six episodes, AMC, the greatest network, took a shot on our friends." Then the ratings came out, and they were quite good.
On watching the show itself, Smith said, "I get geeky when I watch the show, like, 'I know those guys!' And then I come on, and it gets even weirder!" He also noted how after the first episode, people tweeted how much they hated Bryan; after the second episode, fans would say he was funny, but kind of a jerk. After episode three? "I want to be beard guy."
Smith then gave the fans a brief overview of the latest news on the show: they're shooting season two in New Jersey, but the cast didn't come to Comic-Con because Walt doesn't like to fly. "He flew once for Mallrats, and said, 'That was the worst disaster SINCE Mallrats.'"
Then Smith gave the crowd yet another treat: a trailer for the many projects of Smith's SMODCO productions, which included some clips featuring the Comic Book Men gang talking to the San Diego crowd, as well as of Bryan trying to force Ming Chen and Michael Zapcic to kiss.
Click here to read interviews with the cast of Comic Book Men
Read More