Press
Kevin Smith Talks Podcasting With CNN; Mike Zapcic "Drapes" At the Secret Stash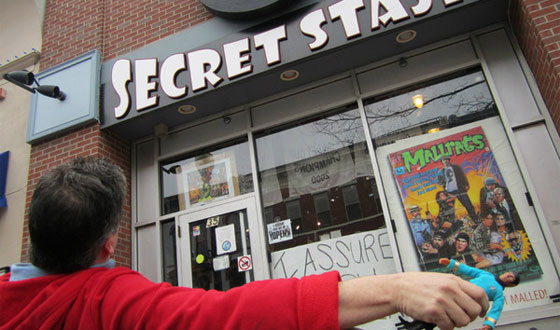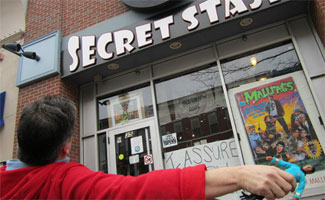 This week, Kevin Smith talks to CNN about the value of podcasting and what it did for his life and career, while Mike Zapcic does his best Don Draper imitation. Plus, Smith discusses his new memoir with the New York Post and his new film with The New York Times. Read on for more:
• Kevin Smith tells CNN that podcasting gave him "the ultimate freedom that allowed me to walk away from the 'heroin' [money] of the movie business."
• Patch has a photo, courtesy of Ming Chen, of Mike Zapcic "Draping" in front of Jay and Silent Bob's Secret Stash. (Click here to learn more about Draping, named for Mad Men's Don Draper.)
• Kevin Smith speaks to the New York Post about his new memoir, Tough Sh*t: Life Advice From a Fat, Lazy Slob Who Did Good.
• According to Deadline Hollywood, The Hollywood Reporter and TheWrap, Kevin Smith's SModcast Pictures banner will release its first movie, Bindlestiffs, in conjunction with Phase 4 Films. Smith tells The New York Times the new project is "pushing the envelope in comedy in a way I fundamentally can't anymore." WorstPreviews.com has a clip.
• TheStreet.com profiles celebrities who have gone into business, citing Smith — comic book store owner and wedding officiant — as an example.
• Walt Flanagan appears on the Rant Sports New Jersey Devils Talking Red podcast (around the 29:00 mark), discussing the genesis of his interest in hockey.
• For recaps and reviews of Episode 5, "Con Gone Wrong," check out CosmicBookNews, Nerd Reactor's podcast, ScienceFiction.com, TV Geek Army and TheTwoCents.
Read More