Press
Comic Book Men Passes TV.com Test; Kevin Smith on Avengers Vs. Dark Knight Rises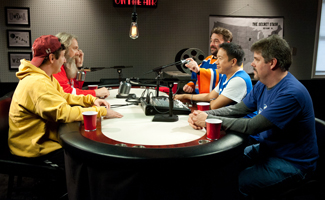 This week, Comic Book Men makes the grade in TV.com's four-episode test, and Kevin Smith discusses The Avengers vs.The Dark Knight Rises. Plus, reviews of both the series and the most recent episode. Read on for more:
• TV.com uses a four-episode test on Comic Book Men and concludes that viewers should "keep watching."
• /film reports on Kevin Smith weighing in via Twitter on which upcoming superhero film excites him most, The Avengers or The Dark Knight Rises.
• MentalSwag.com reviews Comic Book Men, observing, "You know you found a good show when it makes you want to change your occupation."
• In an interview with Bleeding Cool, Smith's friend and frequent co-star Jason Mewes praises the series and his friends at the Secret Stash, remarking "It's cool to see my friends, it's cool to see the comic book store on AMC, but the actual way they put it together and stuff is really good too."
• For recaps and reviews of Episode 4, "Zombies," check out CosmicBookNews, Den of Geek, Nerd Reactor, Patch, ScienceFiction.com, TV Geek Army and TheTwoCents.
Read More