Press
New York Times Visits The Stash; Kevin Smith Profiled by Newsweek, Talks to NY Daily News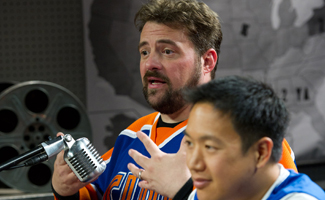 This week, The New York Times visits Jay and Silent Bob's Secret Stash, and Newsweek profiles Comic Book Men executive producer Kevin Smith. Plus, Smith speaks to numerous outlets including the New York Daily News and The Boston Globe, and several publications highlight the series premiere of Comic Book Men this Sunday at 10/9c. Read on for more:
• The New York Times visited Jay and Silent Bob's Secret Stash and declares Comic Book Men a "celebration of the deeply particular personalities involved when geeky merchandise changes hands."
• Newsweek profiles Kevin Smith and his many ventures, including Comic Book Men: "Think of it as Pawn Stars meets The Big Bang Theory with a splash of Jersey Shore (minus the abs)."
• Smith talks with the New York Daily News about how Comic Book Men came to be, telling the paper, "Geek culture is mainstream right now." He also spoke with Fast Company's Co.Create about the origins of Comic Book Men.
• Kevin Smith waxes poetic to the Boston Globe about comics as "one of the only pure American art forms."
• Kevin Smith addresses the New York Observer's query, "Where were the female comic geeks [in Comic Book Men]?"
• Smith also tells Comic Book Resources that he's "never met anyone else like Walter Flanagan, never met anyone else like Bryan Johnson…", while New Jersey's Star-Ledger interviews Kevin Smith about the role that comics have played in his life (no link).
• Kevin Smith tells the Knoxville News Sentinel that Comic Book Men is "a show for everybody except, maybe, my mom."
• MTV reports on a Comic Book Men panel, which featured, among other things, Smith drawing comparisons between sports fans and comic book aficionados: "Ain't no difference between a sports geek and a comic geek. We both like muscled men who dress in tight costumes, wear masks, and fight each other."
• USA Today writes about comic book shops getting their moment in the sun, as Comic Book Men showcases "a slice of nerd life not often seen on TV."
• In its review, Variety applauds "the time-slot, the tone, the surprisingly fertile collectibles/pawnshop genre" of Comic Book Men.
• Conde Nast advises readers to visit Smith's comic store in Red Bank, New Jersey now, before the show's fans flock to it "in hopes of selling their comic treasures or talking all things geek with the show's stars."
• The San Francisco Chronicle says of Comic Book Men, "You are drawn in by the droll inertia of the setting and the gently obsessive characters."
• Media Life magazine advises that viewers "with a fondness for pop-culture geekdom will have a good time" watching Comic Book Men.
• Ming Chen jokes to ScienceFiction that he'll know "he's made it" once he starts getting mistaken for Steven Yeun, who plays Glenn on The Walking Dead.
• WeLoveCult.com compliments Comic Book Men for the "banter and interplay between the characters of a caliber that's rare on most reality shows. These men have been friends for multiple decades, and it shows.
• The Huffington Post includes Comic Book Men's Sunday series premiere in its list of what to watch this week, noting it's for "all the pop-culture geeks among us." Atlanta Journal-Constitution, Contra Costa Times, io9, Metro, New York Newsday (no link), Philadelphia Daily News, Pittsburgh Post-Gazette, Slate, TV Guide Canada and The Week (no link) highlight the show too.
• AMC's Filmcritic.com explores the best comic book references in "Smith's geek-friendly filmography."
• One of Comic Book Men's on air trailers is featured at PerezHilton.com, while Multichannel News highlights a different one.
• USA Today comments on Comic Book Men's "pretty sweet time slot, considering it comes after one of AMC's biggest hits," The Walking Dead.
Read More