Press
Kevin Smith Talks Comic Book Shops With Boston Herald, Geek Culture With CNN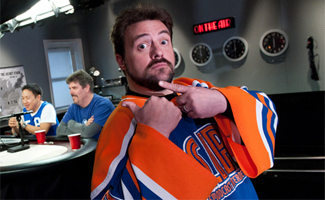 This week, Kevin Smith talks about his devotion to Jay and Silent Bob's Secret Stash, being a geek, and his spiritual debt to Robert Kirkman of The Walking Dead. Read on for more:
• The Boston Herald chats with Kevin Smith about his New Jersey comic book shop, Jay and Silent Bob's Secret Stash: "If you love something, you stick with it no matter what. Now it turns into a TV show. It should be dead, but it keeps evolving."
• In an interview CNN, Smith proclaims, "It's a glorious time to be a geek."
• While speaking with TV Guide, Smith credits The Walking Dead's Robert Kirkman for making Comic Book Men possible: "Not only is his show our lead-in, he's our spiritual godfather. His geekery allowed our geekery to hit the air."
• In a conversation with HitFix, Smith discusses his history with comic shops, as well as how and why he came to own one, his expectations for the show, and why Walt didn't want to be Snooki.
• Smith discusses comic book storytelling with the New Haven Register: "Read the stories, look at the pictures, graphics — it takes you back to kind of our beginning as storytellers." (No Link.)
• Patch interviews the Comic Book Men: Mike Zapcic, Bryan Johnson, Ming Chen and Walt Flanagan.
• According to MTV, Kevin Smith's favorite Star Wars character is Power Droid: "I would like to take that guy and do a whole movie about his adventures."
• For recaps and reviews of Episode 1, "Junk," check out Comic Book Resources, Den of Geek, Los Angeles Times, New York Post, ScienceFiction.com, SciFi Mafia and TV Geek Army.
Read More