AMC's New Unscripted Series, Comic Book Men, Debuts Sun., Feb. 12, at 10PM | 9C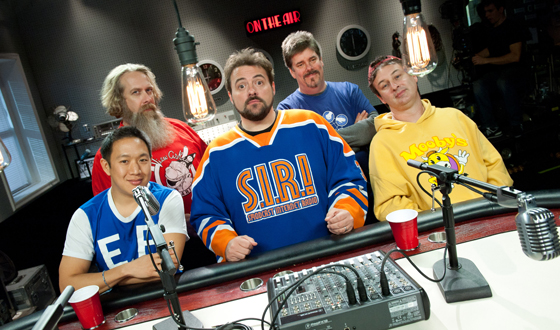 AMC has something special in store with its newest unscripted series, Comic Book Men (formerly Secret Stash), debuting on Sun., Feb. 12, at 10PM | 9C. Executive produced by Kevin Smith (Clerks, Dogma, Chasing Amy), Charlie Corwin's Original Media (LA Ink, Storm Chasers, Swamp People), and Elyse Seiden (Red State), the six-part series dives deep into fanboy culture by following the antics in and around master fanboy Kevin Smith's New Jersey comics shop, Jay and Silent Bob's Secret Stash, where both staff and customers geek out over mind-blowing pop-culture artifacts and the legends behind them.
"Draper. Meth. Zombies. This show couldn't be on a better network. AMC is to television what Miramax was to cinema back when I first got in the game: they're the premiere destination for any storyteller looking to spin an offbeat yarn that no other outlet has the stones to touch," said Smith. "And as if I didn't love them enough, now they're putting my friends on TV! I'm ecstatic, proud, and extremely lucky to be in bed with a network I watch religiously anyway. And if they'd pushed just a little harder in the negotiations, I'd have done this show for no payment beyond early access to every episode of Mad Men, Breaking Bad, and The Walking Dead."
"The comic-book store is, in many ways, the corner bar for comic-book fans. It is still this place where everybody knows your name and you can go and geek out with like-minded people. If I lived closer, I'd want to hang out here. It's got great energy, great personality, and is a perfect portal into the world of comic-book culture," said Joel Stillerman, AMC's SVP of original programming, production, and digital content.
Leading the crew behind the Secret Stash counter are moody manager Walt; Über-nerd Mike; career slacker Bryan; and Ming, the shop's go-to whipping boy. As the team buys, sells, and discovers the treasures of the comic-collecting world, they share all the juicy details with Kevin through their outrageous podcast, which is woven throughout the series.
Complementing the premiere will be a host of online activities and extra video scenes at AMCtv.com. Viewers will also be able to vote in polls related to the show's content, read interviews with the cast, and check out episode sneak peeks, extra extended scenes, photo galleries, and a talk forum.
Click here to watch video for the upcoming Comic Book Men.
Read More