Broken Trail
The Western Isn't Dead! Here Are the Top Ten of the Last Decade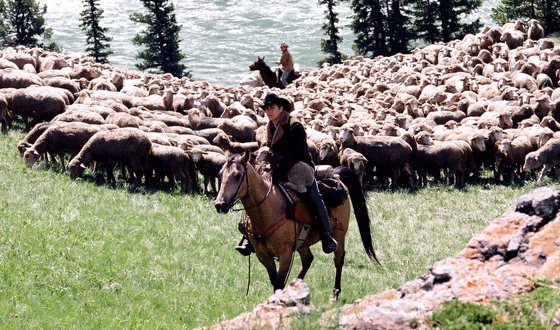 The popularity of bromances like I Love You Man didn't begin and end with comedies. With a few exceptions, the finest Westerns of the 21st-century have focused on the world of male bonding: Viggo Mortensen and Ed Harris, Christian Bale and Russell Crowe, Heath Ledger and Jake Gyllenhaal… These all-star pairings have helped the form come a long way from its collective dry spell in the 1980s. Here's hoping for another great decade as we toast the top Westerns of the aughts.
10. Hidalgo (2004)
Here's a motif that often gets short shrift in Westerns: The romance between rider and
horse. With his trusty steed Hidalgo, Frank Hopkins (Viggo Mortensen) embarks on an incredible race to prove his mustang's prowess against the best Arabian horses. This lush and exotic adventure yarn, based on a true story, recalls the best old-time Western serials. The nostalgia factor helps this one scratch onto the list in tenth place.
9. Australia (2008)
Baz Luhrmann put frontier themes through a postmodern kaleidoscope with this highly stylized western/melodrama/romance/war movie. Luhrmann threw everything but the kitchen sink at the viewer, and it makes for invigorating, if exhausting, viewing. That said, you won't soon forget it, and the movie is a nice reminder of Australia's own cowboy traditions.(It's true! They have some of their own!)
8. The Three Burials of Melquiades Estrada (2005)
In grim flicks like The Wild Bunch,
Mexico is depicted as a bleak playground for trigger-happy
horsemen. But this modern Western from Mexican screenwriter Guillermo
Arriaga (Amores Perros) presents a nice correction, centering on
prejudices north of the border. Director — and proud Texan — Tommy Lee
Jones does a great job giving the parable a Lone Star feel (he filmed
much of it on his own ranch).
7. Broken Trail (2006)
This movie may not reinvent the wagon wheel (ha!), but it's so enjoyable to watch that it doesn't matter. Whereas Seraphim Falls felt like a '50s Western a half-century past its expiration date, Broken Trail
gives off that old-time aroma that any Western fan will recognize. With
sturdy storytelling and strong characters, as well as timeless themes
of loyalty, ethics and character, Broken Trail is a winner. It might have ranked higher if not for…
6. The Proposition (2005)
Directing
from a screenplay by singer Nick Cave, John Hillcoat's Western brings
back the savagery and violence of the frontier. (That frontier being, of
course, Australia.) The harshness of the movie reminds one that
violence has always been one of the central subjects of Westerns. The
movie's uncompromisingly harsh tone makes it unsurprising that
Hillcoat later went on to helm the adaptation of Cormac McCarthy's bleak The Road.
5. Appaloosa (2008)
Appaloosa
is made of classic material but is far better than the sum of its
parts. Thank the richly textured approach of its director, Ed Harris,
who puts the spotlight on his two leads: Marshal Virgil Cole (played by
Harris) and Deputy Everett Hitch (Viggo Mortensen). They say that a
movie is 90 percent casting, and with a solid script and Harris'
eminently competent direction, this movie easily earns its spot in the
top five.
4. 3:10 to Yuma (2007)
Like Appaloosa,
this remake is also a perfect vehicle for its two stars. With smart
dialogue and perfect pacing, it in some ways trumps the original by
fleshing out its main characters, here played impressively by Christian
Bale and Russell Crowe. You never doubt the movie's authenticity as
Bale's farmer joins forces with Crowe's outlaw Ben Wade. It's an
accomplished piece of work.
3. Shanghai Noon (2000)
OK,
so far this has been an overly serious lot — it's about time we got a
good, solid Western comedy in the mix. The dueling personalities on
display here are Jackie Chan and Owen Wilson. Also dueling? Their
competing but complementary comic styles. But together they're a
delight to watch in this movie. It's nothing if not a good time and
easily earns its third-place slot.
2. The Assassination of Jesse James by the Coward Robert Ford (2007)
This one fell through the cracks when it was released, but it will remain something of a classic for years to come. The cinematography by Roger Deakins is brilliant, as is the movie's portrayal of the pitfalls of celebrity. The movie brought the freshest material of all the pics included here — and it showed that Casey Affleck is as big of a talent to watch out for as his brother Ben.

1. Brokeback Mountain (2005)
OK, perhaps this movie's been over-praised. But it's the most perfect,
and most original of the movies on this list. Its tragic
love story is affecting without being overblown, with Western themes
throwing a heavy shadow over every plot point. It made us take a new
look at what Western ideals of loyalty, self-reliance, and honor mean
by projecting them through an entirely new lens. And the performances
by both Heath Ledger and Jake Gyllenhaal couldn't be better. For the
win!

Read More