Broken Trail
Broken Trail and The Wild Bunch Would Be Nothing Without Their Sidekicks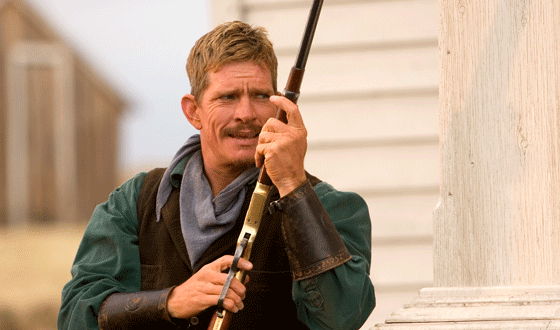 Every Lone Ranger needs his Tonto, every Cisco Kid his Pancho. Along with a horse, pistol, and lariat, having a trusted comrade is a necessity on the open frontier — that is, if you don't want to wind up with a bullet in your back. Here are some of the West's most notable sidekicks.
10. Tom Harte (Thomas Haden Church) in Broken Trail (2006)
Like many a sidekick actor, Church has made an admirable if undersung career in non-starring roles. Look at his dazzling turn as a philandering fiancé in Sideways or his long tenure as grease-monkey Lowell in the sitcom Wings. In Broken Trail, he keeps up the act as Robert Duvall's nephew, in the sort of generational conflict that Westerns are made of. (See Montgomery Clift in Red River.) Still, he's something of a rare visitor to the Wild West, so he just scratches onto this list in tenth place.
9. Curley Burne (DeForest Kelley) in Warlock (1959)
Believe it. Before Kelley was muttering "Damn it, Jim" as Dr. McCoy in Star Trek, he was a ubiquitous second banana in Westerns. In Warlock,
the gun-toting Curley Burne is one of the slimiest men you've ever seen
walking in a ten-gallon hat, doing dirty work for a local outlaw. Just
as cowboys need their sidekicks, villains need their henchman. Despite his immoral ways, he sleazes into ninth places thanks to the novelty factor.
8. Slim Pickens as himself in Colorado Sundown (1952)
You'll remember this eighth-place entry for bull-riding an A-bomb to kingdom come in Dr. Strangelove. But before starring in that Cold War satire, Pickens was the comic counterpart to the Arizona Cowboy himself–Rex Allen. Beginning with Colorado Sundown, and over scores of pictures in the early '50s, the duo made an indelible odd couple. Pickens became synonymous with his screen persona as a gabby cowhand, and he later spoofed the typecasting firsthand as the heehawing Taggart in Blazing Saddles.
7. Nadine Groot (Walter Brennan) in Red River (1948)
Walter
Brennan is the prototypical old coot. He spouts timeworn witticisms and
is fond of saying "Doggone it!" He's in good form in Hawk's Red River,
where he plays Nadine Groot, the right-hand man to John Wayne's trial boss.
He's there to toss Wayne a knife as he's getting attacked,
empty-handed, by a brave. This is one sidekick you'd want to keep around.
6. Frog Millhouse (Smiley Burnette) in Melody Trail (1935)
Good help is hard to come by. While Singing Cowboy Gene Autry rode from cliffhanger to cliffhanger, he was accompanied by good ol' Frog Millhouse — a character played over scores of B-Westerns by Smiley Burnette. His first qualification for the job was his wacky name. The second was Burnette's skill at lending comic relief, provoking laughs through his long-winded frontier fairytales tales and his croaky baritone. His sense of humor earns him a solid sixth place.
5. Cookie Bullfincher (Andy Devine) in Bells of San Angelo (1947)
Devine's high-pitched voice and man-child mannerisms are instantly recognizable. But is this really the guy you want to spend hours with on the open frontier? As Cookie Bullfincher, Devine's eccentricities must have surely grated on the nerves of his long-suffering companion Roy Rogers. Did they remind Rogers of his own lost youth? Or did Rogers merely have the patience of asaint? In any case, Rogers took Cookie along for nine pictures so he clearly lightened up things with his insouciant ways. For that he cracks the top five.
4. Dutch Engstrom (Ernest Borgnine) in The Wild Bunch (1969)
What's
the mark of a good sidekick? How about following your buddy to certain
death? That's what Engstrom does as he accompanies his longtime
companion, Pike Bishop (William Holden), into a situation that spells
bloodbath: retrieving one of their men held captive by a sadistic
Mexican general. "Give 'em hell, Pike!" Engstrom screams as the bullets
fly in the film's crimson climax — the mark of a truly dedicated sidekick, to be sure.
3. Tonto (Jay Silverheels) in The Lone Ranger (1956)
As he fights, tracks, and forages for the Lone Ranger, it's clear that sidekicks don't come much more faithful than Tonto. Mohawk-ed actor Jay Silverheels played him in the popular 1940s television show and continued the tradition in a run of movies that started in 1956 with The Lone Ranger. Silverheels got typecast in the role — but he kept his sense of humor, appearing in character on The Tonight Show with Johnny Carson, where he discussed the thankless task of being a sidekick. For his trouble, he lands at number three.
2. Dude (Dean Martin) in Rio Bravo (1959)
What's
a better name for a fellow you can count on through thick and thin than
Dude? The deputy's got a drinking problem, sure. But delirium tremens
can't diminish his gunfighting spirit. Rest assured, by the picture's
end, he proves an ample second to John Wayne's Sherriff John T. Chance.
Martin continues to stand by Wayne's side in 1965's The Sons of Katie Elder. He might have come in first if not for the inimitable…
1. Gabby (Gabby Hayes) in My Pal Trigger (1946), among many others
Hayes is the gold standard by which all Western sidekicks are judged. His most iconic performances came opposite singing cowboy Roy Rogers, and he typically played folksy, irascible yokels — the perfect foils to Rogers's brand of clean-cut heroism. After his tenure with Rogers, Hayes served opposite John Wayne in scores of movies, and, in an honor, he found himself lampooned by a look alike in Mel Brooks's spoof Blazing Saddles.
Click here for a full list of Broken Trail showings on AMC.
Read More