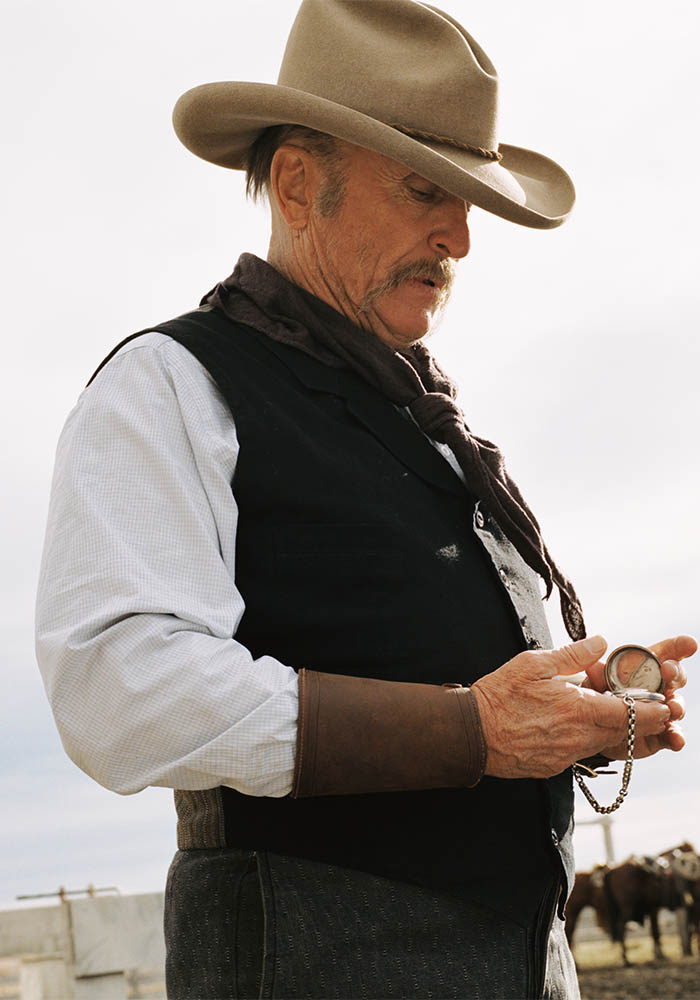 If you asked any of his fellow cowhands, they'd swear old Print was born on a saddle. But he was really born in the east before heading west. From the minute he learned to ride a horse, Print's spent more nights sleeping under the stars than a roof. And while that life's handed him a few knocks, it's also given him great stories to share around a campfire. Eager to retire to a ranch of his own, Print defers an immediate chance at a homestead to do right by his nephew Tom and seize one last chance to drive lead his biggest drive ever.

"Robert Duvall is the finest American actor in film today," insists Richard Harris, who starred with Duvall in Warner Brothers' Wrestling Ernest Hemingway. "His work is so versatile, so courageous, so unpredictable," Harris says of the Academy Award-winning Duvall. "He paints it so beautifully. He's an incredible joy to work with and to watch."

Robert Duvall's climb to the pinnacle of his chosen profession began in San Diego, California, where he was born January 5, 1931, one of three sons. At age 10, Robert moved with his family to the East Coast because of his father's military career. He grew up primarily in Annapolis, Maryland, spending several summers on an uncle's ranch in Montana.

Robert's father, a rear admiral in the U.S. Navy, wanted the boy to pursue a life in the military. The future actor compromised by majoring in history and government at Principia College in Elsah, Illinois, where the family moved. He later switched to the drama department, where he earned his degree.

Following a two-year tour of duty with the United States Army, the young man moved to New York in 1955 and enrolled in the renowned Neighborhood Playhouse on the G.I. Bill. Sanford Meisner, who trained many of our most important actors, was the first to recognize Duvall's potential, and cast him in Tennessee William's, Camino Real and Horton Foote's The Midnight Caller.

The fledgling actor supported himself at a number of jobs, including night janitor at American University and employment at the Post Office. He shared an apartment with two other then-unknown actors, Dustin Hoffman and Gene Hackman. Five years after his first meeting with Horton Foote, the playwright recommended the young Duvall for the 1963 screen debut in To Kill A Mockingbird, and the two went on to collaborate on other projects. In the now-classic motion picture, Duvall played the pivotal role of the mysterious, misunderstood Boo Radley.

In 1965 he won an Obie for his performance as the hero in a revival of A View From the Bridge. The playwright Arthur Miller was sufficiently impressed with Duvall's interpretation to provide valuable career assistance.

A standout role on the live television series Naked City provided a major boost for Duvall, who went on to guest-star on a number of top dramatic TV shows. He spent most of 1966 in the Broadway hit Wait Until Dark.

Other film credits during the 1960s include Captain Newman, M.D., The Chase, Countdown, The Detective, Bullitt, The Rain People, and True Grit, in which he played a villainous cowboy. His movie career in full swing, he began the 1970s as the pious Major Frank Burns in M*A*S*H, followed by THX 1138 and Lawman.

In 1972 he was honored with an Academy Award® nomination as Best Supporting Actor for his role as Corleone Family legal advisor Tom Hagen in The Godfather. Other pictures during the first half of the decade include Horton Foote's Tomorrow, in which he played a loyal cotton farmer, The Great Northfield Minnesota Raid, Joe Kidd, Badge 373, Francis Ford Coppola's The Conversation, and The Outfit.

In 1974 he acted in The Godfather, Part II followed by Breakout and The Killer Elite. In the 1976 box office success Network, he was the chillingly ruthless television network executive, and in The Seven-Per-Cent Solution, he played Dr. Watson.

In 1977 he directed and co-produced We're Not the Jet Set, a documentary about a Nebraska rodeo family. The film was honored at the London Film Festival.

Subsequent acting credits as the Seventies drew to a close were The Eagle Has Landed in which he was a Nazi officer, The Greatest, and The Betsy. In 1977 he returned to the New York stage in David Mamet's American Buffalo. The next year he tackled the difficult title role in the highly-regarded six hour television miniseries, Ike.

In 1979 he earned a second Oscar® nomination as Best Supporting Actor for his role as the Custer-like Kilgore in Apocalypse Now. It is Kilgore who utters the memorable words, "I love the smell of napalm in the morning."

The next year he drew yet another Academy Award® nomination, this for Best Actor as the macho Marine pilot Bull Meechum in The Great Santini. After acting as a cynical cop in True Confessions and as the pursuer in The Pursuit of D.B. Cooper, Robert Duvall landed one of his most memorable roles. He was honored with the Academy Award® as Best Actor for the 1983 release Tender Mercies. He starred as Mac Sledge, a born-again country music star inspired by a young widow and her little boy to put his life back together. He created and performed his own songs for the honored film written by Horton Foote.

In 1983 he directed his second film, Angelo, My Love, a portrait of New York's mysterious Gypsy community, which he also wrote and produced. From 1984 until the end of the decade Duvall appeared in The Stone Boy, The Natural, The Lightship, Hotel Colonial, Let's Get Harry, Belizaire the Cajun, and Colors in which he played a Los Angeles policeman who returned to the street to battle gang violence. In 1989 he starred as Gus in the extremely popular mini-series Lonesome Dove, which ranks as one of the "best part(s) of my career" and earned him an Emmy nomination.

The early 1990s saw Duvall on screen as a veteran race car mechanic in Days of Thunder and as Faye Dunaway's high-powered husband in a near-future world struggling to create a pure generation in A Handmaid's Tale. Following A Show of Force, Duvall appeared in yet another Horton Foote film, Convicts, directed by Foote and co-starring James Earl Jones. Duvall remained busy the next several years, starring in the musical Newsies, Rambling Rose, Falling Down, Geronimo, and Wrestling Ernest Hemingway in which he played the elderly Cuban gentleman, Walter, one of his favorite roles. He also played the title role of the HBO Original film, Stalin, earning a Golden Globe for best actor portraying the ruthless Soviet dictator.

In 1992 Duvall formed Butchers Run Films so that he could become more actively involved in all elements of film development and production. The company's first co-production, A Family Thing in which Duvall co-stars once again with James Earl Jones, earned a Humanitas Award. Continuing his commitment to quality stories, Duvall executive produced Butchers Run Films' second co-production, the critically-acclaimed TNT Original The Man Who Captured Eichmann in which Duvall portrayed the chillingly remorseless Nazi bureaucrat, Adolph Eichmann.

The last few years Duvall has been in The Paper, The Stars Fell On Henrietta, Roland Joffe's adaptation of Nathaniel Hawthorne's classic novel The Scarlet Letter, and the hit with John Travolta, Phenomenon.

In 1996, Duvall got back behind the camera, directing his original screenplay, The Apostle, his labor of love project he wanted to make for the past fifteen years. Financing the Butchers Run Films production himself and starring in the title role of a southern Pentecostal preacher on the run from the law, Duvall was able to shape his vision with the help of a dedicated cast that includes Miranda Richardson, Farrah Fawcett, and Billy Bob Thornton. In September 1997 The Apostle fetched the highest price ever for a film sold at the Toronto International Film Festival. October Films won the bidding, paying $5 million for all rights to the film.

Duvall received an Academy Award® nomination for the title character of The Apostle. The Independent film community honored the film by nominating Duvall's labor of love for six Independent Spirit Awards - the most of any film in '97. Duvall took home Best Picture, Best Actor, and Best Director. In addition to numerous other accolades, the film has been named to over seventy five critics' "Top 10 films for 1997" lists, including Janet Maslin's for the New York Times and Ken Turan's of the Los Angeles Times.

Duvall followed up with co-starring roles in Deep Impact and, opposite John Travolta for the second time, in A Civil Action. For the latter role he received a Golden Globe nomination for Best Supporting Actor in a Drama and his sixth nomination for an Academy Award®. He followed this role co-starring with Nicolas Cage in the action film Gone in 60 Seconds.

Summer and Fall of 1999 saw Duvall in Scotland, wearing the hats of both star and producer in a Butchers Run Films co-production directed by Michael Corrente entitled, A Shot At Glory. Duvall plays a veteran manager for a lower division Scottish football team during its Cinderella bid for the Scottish Cup.

In the beginning of 2001, he went to Argentina to direct, produce, and star in his own script Assassination Tango. Duvall portrays a hit man from Brooklyn who gets sent down to Buenos Aires to kill a general and in the process falls in love with the tango. Butchers Run produced the film along with Duvall's long-time friend Francis Ford Coppola and his company, American Zoetrope. MGM/UA distributed the film in March of 2003.

Upon completing Assassination Tango, Duvall portrayed his actual ancestor, General Robert E. Lee, in Warner Brothers' Civil War epic, Gods And Generals, the prequel to Gettysburg. The following summer Duvall returned to the Old West, starring as a cowboy opposite Kevin Costner in Open Range, a film which Costner directed as well and Disney distributed. After that, Duvall starred with Michael Caine and Haley Joel Osment in the family film Secondhand Lions for New Line Cinema.

Duvall played a cameo in the independent Thank You For Smoking, opposite Aaron Eckhart.

In Spring of 2005, Duvall co-starred opposite Will Ferrell in the broad comedy Kicking and Screaming for Universal.

Duvall produced and star opposite Thomas Haden Church in the 4-hour western mini-series Broken Trail for AMC's newly launched movie division.

Duvall lives on his Revolutionary War-era farmhouse estate in rural Virginia with his wife, Luciana, and their four dogs.

Church resides on his ranch in Texas.