Press
Bryan Cranston Talks Bad to Variety; Jokes About Aaron Paul With EW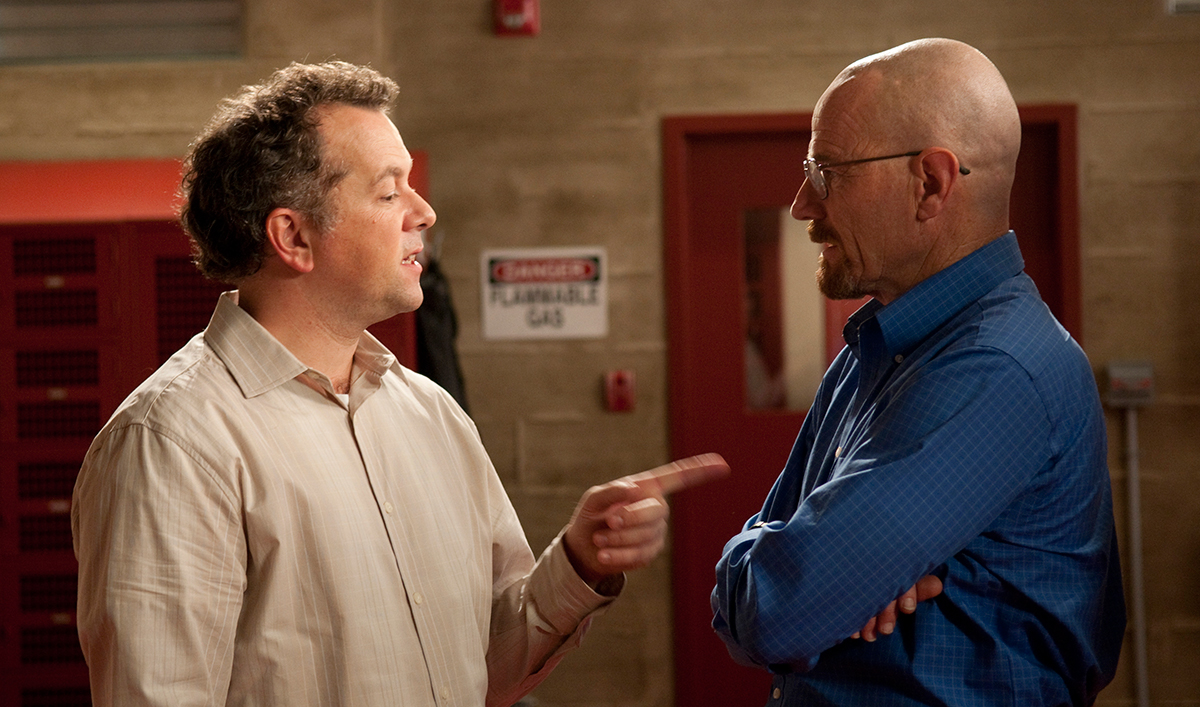 This week, Bryan Cranston extols Breaking Bad's script, while he jokes about Aaron Paul reading the audiobook version of Cranston's memoir. Plus, he talks about creating Walt. Read on for more:
• In Variety's excerpt of A Life in Parts, Bryan Cranston writes that the Breaking Bad "script was oh‑my-God superb, the best hour-long drama I'd ever read. Great characterizations, complex plots, nuanced story elements, surprises that left you thinking: What on earth is going to happen next?"
• Talking about reading the audiobook version of A Life in Parts with Entertainment Weekly, Bryan Cranston says if he had another reader, "I would like Aaron Paul to read it because I know that throughout, he would put an impromptu, impulsive, 'Yo, bitch!' in there somewhere."
• The Seattle Times interviews Bryan Cranston, who proclaims, "Walter is in me and I am in Walter. He created me and I created him."
• Bryan Cranston tells The Denver Post, "I realize that the opportunity to write the book derived mainly from the success of Breaking Bad. I'm not blinded by that. It's the fulcrum of my career."
• The Milwaukee Journal Sentinel learns from Bryan Cranston that he was responsible for Walt's appearance, "how he should look and behave — a lot of it was left up to me. That's an actor's job. Hair color, mustache, color of skin, weight, posture — that was all stuff I came up with."
• Bryan Cranston tells The Kansas City Star that Breaking Bad's influence "might be profound. Before Breaking Bad, it was a dogmatic belief that characters don't change. Plots change but characters stay the same."
• Interviewed by The Dallas Morning News, Bryan Cranston says, "Breaking Bad changed my life in so many ways and I'll forever be connected with that character, and I welcome that."
• After reading A Life in Parts, Esquire reports that Walt's goodbye to Walt Jr. had to be reshot because the scene's "35 mm film was immediately shipped from the Albuquerque set to Los Angeles for processing, but the canister fell off an airport luggage cart and was run over by a tow truck."
• Reviewing A Life in Parts, The Buffalo News discusses the book's Breaking Bad section: "The character dissection is intense, and Cranston is as intellectually perceptive as he was emotionally complex in the role. He details a few conflicts, some push-backs, but is generous in his praise for the writers, producers and fellow actors."
• News.com.au's list of the most shocking screen deaths includes Walt, who "was hurtling toward death from the very first episode when he was diagnosed with inoperable cancer — but it didn't seem to take the edge off when it actually happened in the series finale."
• CableTV.com reports that Breaking Bad is the most popular TV show in New Mexico.
• Sputnik News checks out a London pop-up inspired by Breaking Bad where guests "turn up, get changed into yellow suits, make their own cocktail sensation and live like Walt for the day in the Breaking Bad bus."
Watch full episodes of Breaking Bad on amc.com.
Read More