Press
Aaron Paul Visits Tonight; Bryan Cranston in James Franco Movie Trailer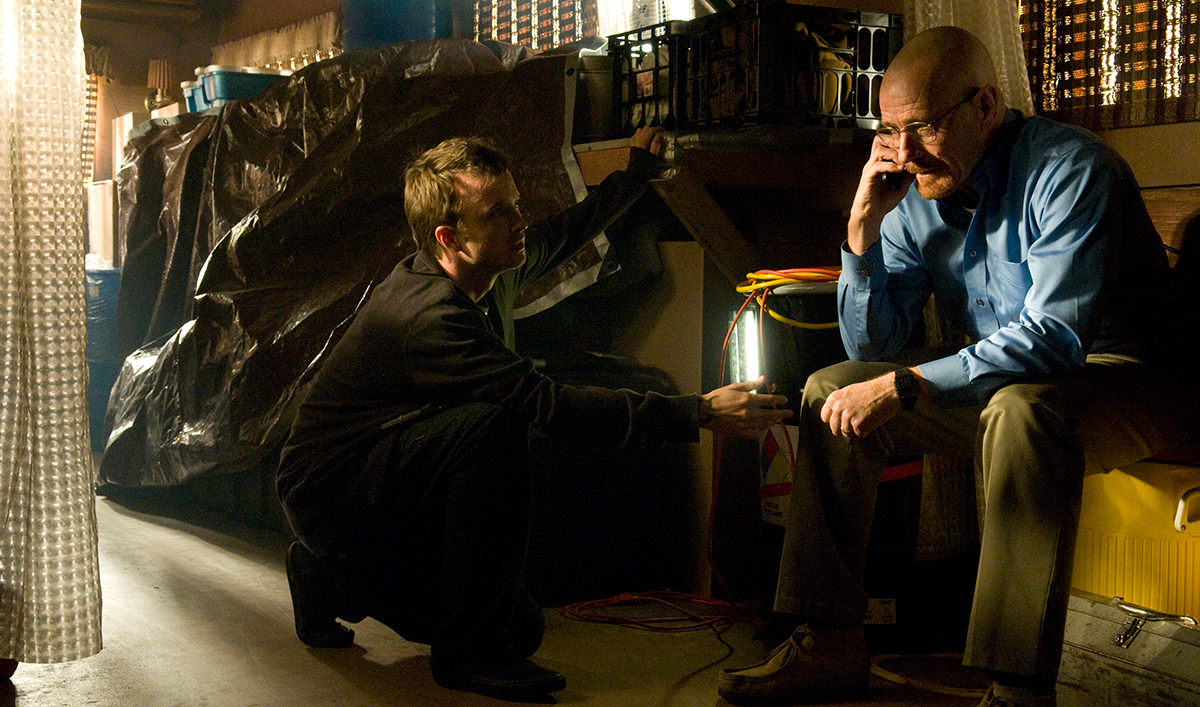 This week, Aaron Paul visits with Jimmy Fallon, while Bryan Cranston appears in the trailer for James Franco's In Dubious Battle film adaptation. Plus, Anna Gunn garners more positive reviews for Equity. Read on for more:
• Aaron Paul appears on The Tonight Show Starring Jimmy Fallon, talking about the time he embarrassed himself in front of Tom Cruise and his Stranger Things obsession. GQ admires "the bold striped dress socks" Paul sported on the show.
• Deadline spotlights the trailer for James Franco's In Dubious Battle, which stars Bryan Cranston and will premiere at the Venice Film Festival.
• Good reviews abound for Anna Gunn in Equity, from The Salt Lake Tribune, The Detroit News and Tampa Bay Times.
• Deadline reports that The Intouchables remake, starring Bryan Cranston and Kevin Hart, will be directed by Neil Burger.
• Dean Norris has joined Bruce Willis in the remake of 1974's Death Wish, which starred Charles Bronson, Deadline says.
• Remembering Jesse's memorable lines, Uproxx urges readers "to think back to these Breaking Bad moments next time you feel a little over your head."
• Praising Aaron Paul, Decider declares that "there's one big reason why Paul's performances connect with audiences. Aaron Paul slays when it comes to portraying vulnerability."
• RJ Mitte, interviewed by The Telegraph, says Walt Jr. "was actually based on a real person, a college friend of Vince Gilligan, and one of the reasons he cast me was because I apparently look very much like him."
• HeyUGuys deems Breaking Bad one of TV's most addictive shows, saying it "never once misses a beat, expertly skipping from dark comedy to violent horror whilst presenting a host of brilliantly sketched supporting characters."
• Cinema Blend's worst TV teachers includes Walt, who "constantly exuded a feeling of bitterness and pessimism towards his chosen profession, and never seemed to enjoy education as much as he enjoyed science itself."
• MoviePilot advocates watching Breaking Bad on Netflix, remarking that the show's "the real pull is watching the devolution of a family man into a ruthless criminal mastermind."
• Brooklyn checks out the borough's Breaking Bad-inspired cafe, Walter's, which "may not look explicitly like the inside of Walter White's house, or meth lab, or Albuquerque, or something, but the inspiration from the show is still explicit, albeit being subtly presented."
• According to The Hollywood Reporter, RJ Mitte is calling on the entertainment industry to cast more disabled actors, saying, "If there is an able-bodied role, everyone should be allowed to audition for it. The character is a character in the story. It doesn't mean I will get it … but we all have that right to audition."
• Collider.com speaks with Aaron Paul, who says, "Bryan [Cranston] and I, we talk, it feels almost like on a weekly basis. I love the guy so much. He's so busy, but he definitely always takes time to really stay in touch."
• Talking about his dual roles in The 9th Life of Louis Drax, Aaron Paul tells The Associated Press, "It was a huge process, a four-hour process. It was a big suit that I put on. A latex head. I kind of suppressed the memory."
• Entertainment Weekly Netflix will stream the upcoming CBC miniseries adaptation of L.M. Montgomery's Anne of Green Gables, which is being written by Moira Walley-Beckett.
Watch full episodes of Breaking Bad on amc.com.
Read More