Press
NY Times Talks to Obama, Bryan Cranston; Aaron Paul Owns Gus' Head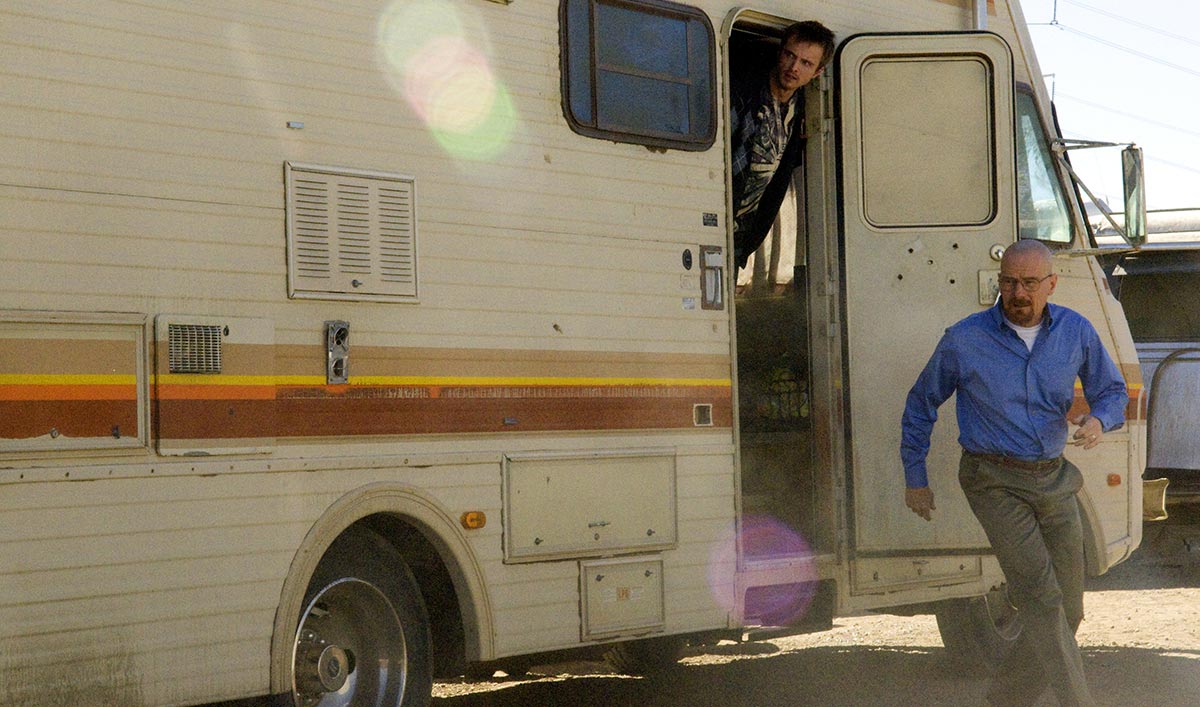 This week, The New York Times talks to President Obama and Bryan Cranston, while Aaron Paul reveals that he has Gus Fring's prosthetic head. Plus, Heisenberg appears on the back cover of Cranston's upcoming memoir. Read on for more:
• In an Oval Office interview, The New York Times speaks with President Barack Obama and Bryan Cranston, who says, "When I set out to be an actor, I just wanted to tell stories. The fact that great fortune came and allowed me to become famous is almost a distraction from what I wanted to do."
• According to Uproxx, Aaron Paul tells Seth Meyers he has lots of Breaking Bad props, including Gus' blown-apart prosthetic head from the Season 4 finale, "Face Off," because "I really took everything I could from that show."
• The New York Daily News spotlights Bryan Cranston's upcoming memoir, A Life in Parts, where the back cover "features a picture of one of Cranston's most famous protagonists, Walter White's alter-ego, Heisenberg."
• GQ inducts Breaking Bad into the TV Time Jump Hall of Fame because of Season 5's "Gliding Over All" — when Walt is "a stress-free, successful drug kingpin, which… does not seem fun." In the same vein, Slate notes that the "glimpse of Walter White's future in the last half-season premiere drew a tantalizing question mark over the series' entire final episodes."
• Deadline's review of HBO's upcoming All the Way says "the performances delivered by Bryan Cranston and Anthony Mackie in the two-hour-plus pic are towering and skillful."
• According to The Daily Beast, Bryan Cranston appears on HBO's Real Time With Bill Maher and says, "Maybe it's time for a viable third party that's socially conscious yet fiscally responsible. What happened to those people?"
• At the Kentucky Derby, Dean Norris tells Louisville, Ky.'s Courier-Journal that he would name a horse "Hank Schrader."
• Deadline reports that Dean Norris has joined the cast of High Wire Act, a political action thriller directed by Tony Gilroy and starring Jon Hamm and Rosamund Pike.
• Cinema Blend commends Aaron Paul: "For his first small screen gig after Breaking Bad, actor Aaron Paul likely had the pick of the TV litter, and he nailed it by choosing The Path."
• Bryan Cranston is set to star in Jackpot, a movie that will also star Mila Kunis and be directed by Will Gluck, Deadline reports.
• According to The Hollywood Reporter, Bryan Cranston will appear in and executive produce Electric Dreams: The World of Philip K. Dick, a 10-part anthology.
• Bill Burr tells the Orlando Sentinel that he owes Vince Gilligan "my entire acting career. Before he came along, I wasn't getting a lot of work. I'm a redheaded male. I was getting Ron Howard-Richard Cunningham roles."
• Nerdist spotlights a Breaking Bad rap where Bryan Cranston, Anna Gunn and RJ Mitte "lend their voices to a song that wasn't concerned with who knocked or who had to die for Heisenberg to rule the Southwest drug trade, but rather with the most important meal of the day."
• According to HD Report, all five seasons of Breaking Bad are available in ultra HD on Netflix.
• Reviewing Remember, 411Mania comments that one of "the most well-acted scenes in the film involves Christopher Plummer and Dean Norris. It plays out in such an odd yet fascinating way. I couldn't keep my eyes off the screen."
• The Film Stage posts a trailer for Gabriele Muccino's Fathers and Daughters, a movie featuring Aaron Paul and starring Russell Crowe and Amanda Seyfried.
Watch full episodes of Breaking Bad on amc.com.
Read More