Press
Aaron Paul in The Path Trailer; Anna Gunn Books Comedy Pilot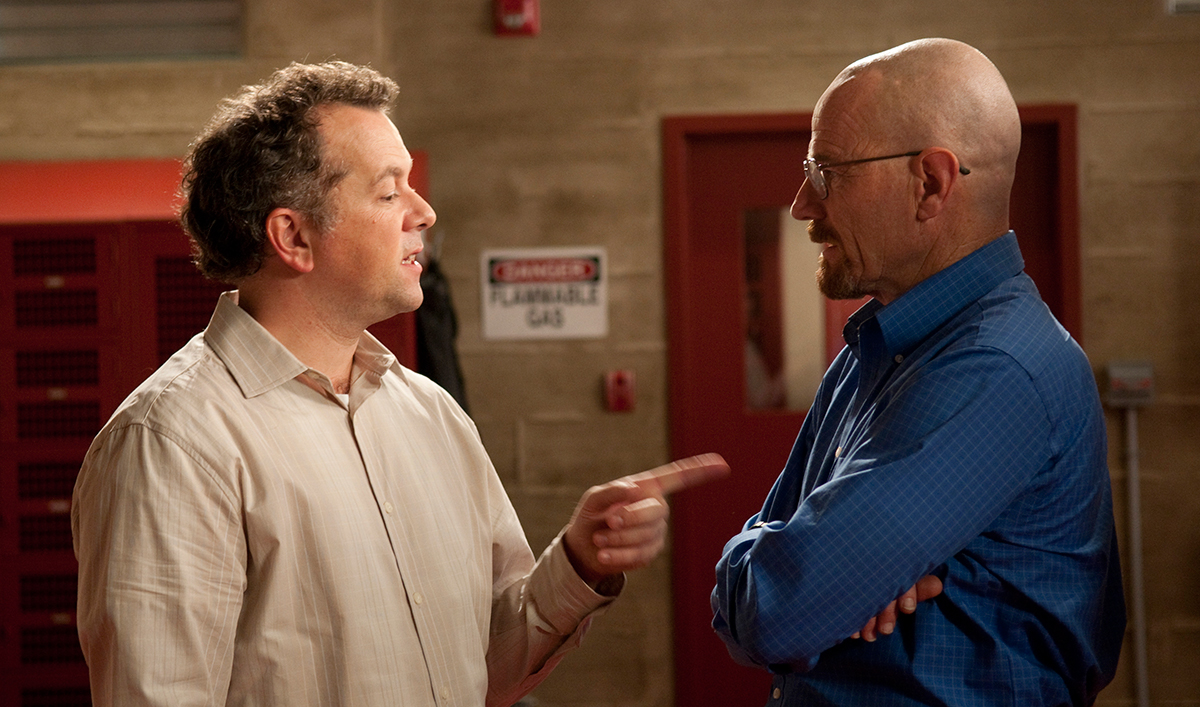 This week, Aaron Paul shows up in the trailer for The Path, while Anna Gunn books an ABC comedy pilot. Plus, Bryan Cranston and Jimmy Fallon do an interview in a bathtub. Read on for more:
• After viewing the trailer for Hulu's The Path, Vanity Fair says that "we have Aaron Paul back in full Jesse Pinkman mode as a vulnerable hero with divided loyalties. Look at those tear-filled eyes and get excited for The Path to premiere on March 30."
• According to The Hollywood Reporter, Anna Gunn will star in an ABC comedy pilot called Chunk and Bean.
• Entertainment Weekly watches as Jimmy Fallon interviews Bryan Cranston in a bathtub, after "showing the Trumbo star a photo of the real-life Dalton Trumbo writing from a bathtub."
• Bryan Cranston tells ABC News Vince Gilligan fought for him to play Walt, that "Vince, to his great credit and my benefit said, 'He's an actor. This is what he does, you know. He can do this.'"
• Las Vegas' KTNV reports that a permanent Breaking Bad exhibit will start at the city's The Mob Museum on Feb. 26.
• At Bryan Cranston's first Oscars in 2013, Vanity Fair points out that he was "still deeply in Breaking Bad mode, which means he had to pair his dapper tux with that Heisenbergian chrome dome and goatee."
• Variety interviews Aaron Paul about his Triple 9 role and learns that at the "very beginning of the film, you can tell he's kind of an intense guy, and something very dramatic happens to him. He just continues down this very dark rabbit hole."
• According to Deadline, Betsy Brandt, hosting the Costume Designers Guild Awards, asked, "What do you wear when your husband has been shot in the New Mexico desert by some thugs Bryan Cranston has been hanging out with?"
• Aaron Paul tells the Evening Standard, "I am drawn to emotionally conflicted characters, something that as an actor I can sink my teeth into. For some reason I am always gravitating towards the darker side of things."
• The Idaho Statesman interviews a native son, Aaron Paul, who says, "Breaking Bad has become kind of a cultural phenomenon, which is incredible. And I wouldn't change it for the world. But yeah, I think it's going to be following me around for the rest of my career."
• Echoing that theme, RJ Mitte says to Metro US, "Walt Jr. will never be done. People will always recognize me for that role, people will always come back to it, or people are just tuning in. He's still alive in so many ways."
• The Sydney Morning Herald wishes Los Pollos Hermanos were real, noting, "While they do cook a delicious fried drumstick recipe, behind the scenes it's a different story."
• Today notes that Eye in the Sky features Alan Rickman in his final on-screen role, Helen Mirren and Aaron Paul, which "makes this a pretty amazing trifecta of some of the best actors we've got."
• Laughing Squid showcases Fat Stacks, "a highly danceable musical tribute to the brilliant AMC television series Breaking Bad using the characters' very own words as the main lyrics."
Watch full episodes of Breaking Bad on amc.com.
Read More