Press
Bad Items Head to Smithsonian; Bryan Cranston on Late Show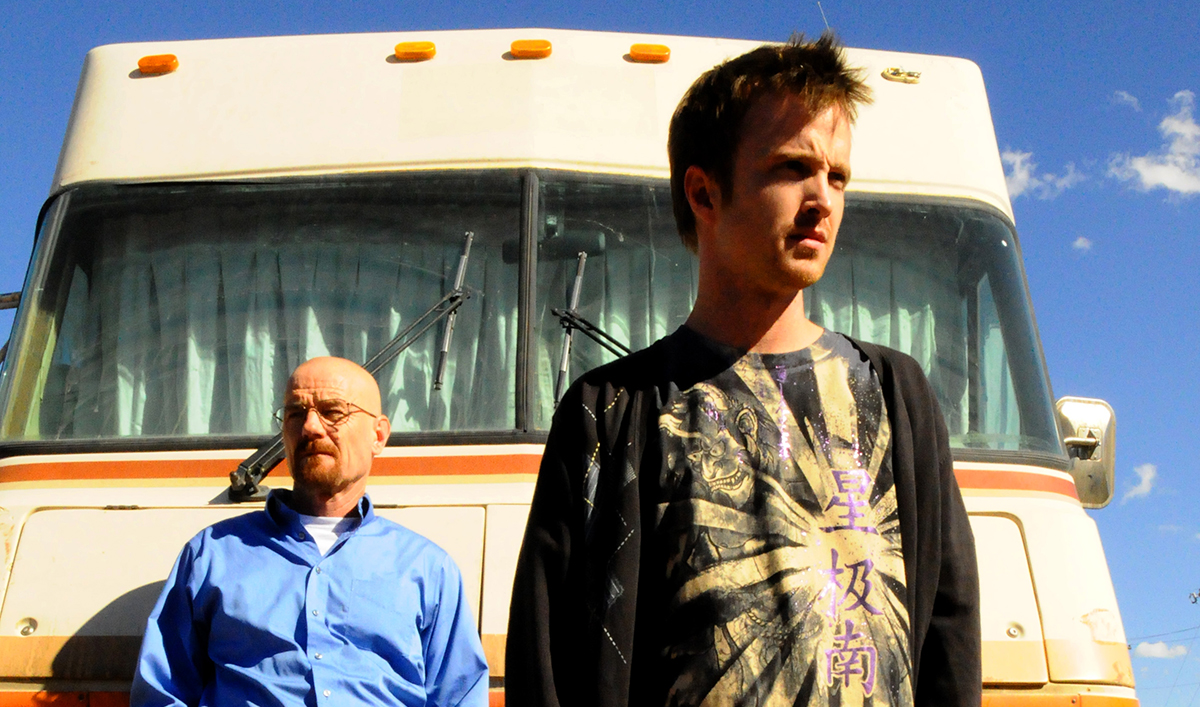 This week, Breaking Bad items head to the Smithsonian Institution, while Bryan Cranston shows up on The Late Show. Plus, Cranston is interviewed by Playboy. Read on for more:
• The Smithsonian's National Museum of American History received more than 10 Breaking Bad props from the show's cast and crew, and The Guardian was there for the ceremony. Variety and USA Today also attended the event.
• Rolling Stone has a clip of Bryan Cranston's appearance on The Late Show where he and Stephen Colbert "gazed at an artificial night sky on a fake hillside for the hilarious, introspective segment 'Big Questions with Even Bigger Stars'."
• In Bryan Cranston's interview with Playboy, he discusses his final Breaking Bad scene with Aaron Paul and how he flashed his a** to Paul (calling it "the view I wanted to leave him with").
• Bustle says that "what everyone really wants is Breaking Bad Season 6, and a chance to revisit Jesse, Walt and co. post the finale" and wonders what a new season could be about. What Culture is also "wondering what has happened since the show ended."
• Ad Age reports that Aaron Paul is appearing in commercials for T-Mobile's Binge On program, which allows some viewers to stream video from Netflix, Hulu, HBO, etc. free of charge, data-wise.
• Variety reports that Bryan Cranston's Sneaky Pete will premiere on Amazon's Prime Video service next year.
• Bryan Cranston talks to amNewYork about the possibility of appearing on Better Call Saul: "I think they would try to figure out how they can logically and justifiably make sense of it. Knowing Vince Gilligan as I do, and Peter Gould, they're executive producers on it, they won't do it as a shock, stunt cast thing."
• Speaking with The Daily Beast, Bryan Cranston talks about his post-Breaking Bad roles, saying, "I was able to step away from the whirlwind of what Breaking Bad became, allow it to calm down, and still be active."
• Vulture says there "might be no better TV example of the shortsightedness and circuitous stupidity of typecasting than Bryan Cranston," referring to his casting as Walt.
• During a Vanity Fair interview about her new TV show, Flesh and Bone, Moira Walley-Beckett says, "I was fascinated with the journey of Walter White and how he started as this monochromatic beige sort of a person who evolved into this extraordinary character and man."
• The Atlantic spotlights Giancarlo Esposito's Gus and Bryan Cranston's Walt in its attempt to answer the question, "Who is the actual worst character on television?"
• Bill Burr talks to The Morning Call about acting on Breaking Bad: "It's like you get sucked into your TV, you time-travel into the future, and this thing that was a TV show is now a real world. It was the most insane thing I've ever gotten to do, I would say."
• Moviepilot unearths some Netflix-related facts, including Breaking Bad being "the most watched show of all time."
• TV Cheat Sheet runs down a list of TV villains that everyone loves to hate, including Walt: "What Walter White became is almost as scary as the process of watching him become it."
• The first reason to watch the upcoming movie, Fathers and Daughters, according to Now Magazine, is because "It's got Aaron Paul in it. You know, Jesse from Breaking Bad."
Watch full episodes of Breaking Bad on amc.com.
Read More