Press
Aaron Paul Lauds Bryan Cranston; Cranston to Streak at Emmys?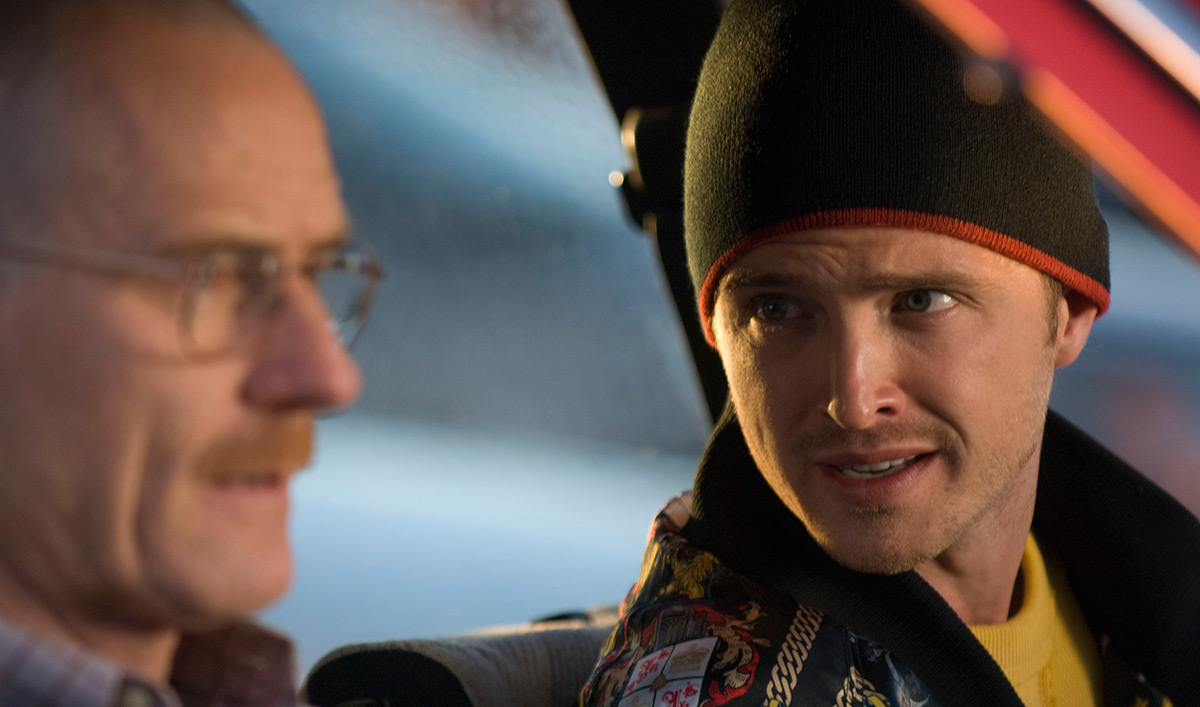 This week, Aaron Paul lauds Bryan Cranston in Marie Claire, while People speculates that Bryan Cranston will streak at the Emmys. Plus, check out Giancarlo Esposito in his new movie. Read on for more:
• Marie Claire interviews Aaron Paul, who calls Bryan Cranston "a dear friend and the biggest mentor. He's the most focused professional guy, but unbelievably immature in the best possible way. I miss laughing with him."
• People.com checks out a new Emmy promo where Andy Samberg provides viewers with a list of hashtags, noting that "the most eyebrow-raising hashtag makes a surprising prediction about multiple Emmy-winner Bryan Cranston – #CranstonStreaks."
• Moviefone has a clip from Maze Runner: The Scorch Trials that introduces Giancarlo Esposito as Jorge, "the leader of a rough and tumble group who has captured Thomas and the Gladers."
• BBC reports that Trumbo, starring Bryan Cranston, will have a gala screening at next month's London Film Festival.
• According to Variety, Dean Norris will voice a character in the Oct. 12 episode of Disney Junior's Sofia the First.
• Variety reports on the TV Academy's celebration of diversity, where American Horror Story's Jamie Brewer said the definition of diversity includes individuals with disabilities, including RJ Mitte's role on Breaking Bad.
• Similarly, Paralympian Chris Holmes applauds RJ Mitte's "nuanced and compelling portrayal of young disabled man Walt Junior in Breaking Bad," according to Variety.
• MTV celebrates Aaron Paul's birthday with "the essential collection of GIFs featuring him and his favorite word. Enjoy (… bitch)."
• In the same vein, International Business Times compiles "a list of best Jesse Pinkman quotes."
• TheCelebrityCafe.com has interviews with RJ Mitte and Giancarlo Esposito from Boston's Walker Stalker Con, where Esposito calls Gus' murder of Victor "a great moment for me because Gus finally got the chance to do something, actually do his own dirty work."
• John Krasinski and Emily Blunt tell Entertainment Tonight, "We're late to the table watching Breaking Bad. Now we're really kicking in. It's the beauty of binge-watching."
• The Film Stage eagerly anticipates Trumbo, which features "a post-Breaking Bad Bryan Cranston getting a rare time at the center of a story (where he probably won't scream a quarter as much as he did in Argo and Godzilla).
Watch full episodes of Breaking Bad on amc.com.
Read More