Press
People Revisits Walt & Jesse's First Cook; Bad's Finale Deemed the Best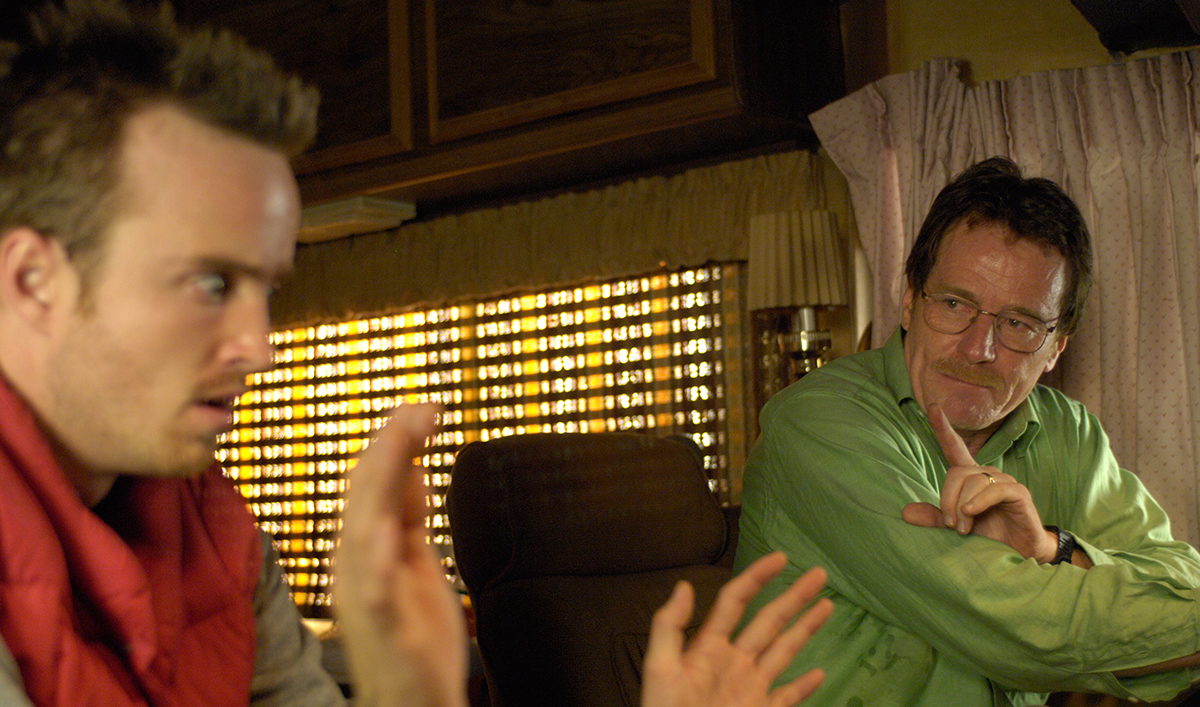 This week, People revisits Walt and Jesse's first cook, while Breaking Bad's last episode is deemed to be the best TV finale ever. Plus, Moviepilot calls Bryan Cranston's Trumbo next year's awards season front runner. Read on for more:
• People's round-up of TV's classic cooking scenes includes Walt and Jesse's first cook, saying that "it's hard to think of another show in recent years that has produced as many iconic, artsy, unforgettable cooking segments as Breaking Bad."
• A Reddit user graphed IMDb's ratings and discovered that viewers deem Breaking Bad the best TV series finale, Vulture reports.
• Moviepilot details why it believes Trumbo, starring Bryan Cranston, will be "a front-runner in the next film awards season."
• In an interview with The Huffington Post, Peter Bogdanovich mentions binge-watching Breaking Bad with Owen Wilson — before hiring him for his new movie, She's Funny That Way.
• Bryan Cranston will co-star with James Franco in a John Hamburg comedy, Why Him?, according to Entertainment Weekly.
• Co.CREATE notes that Clark's is marking its 200th anniversary with an interactive website of the shoe maker's history that includes a "fun" nod to Walt's Wallabees.
• The Wall Street Journal, reporting from a Michigan show for bad cars, notes that the winner of "Worst in Show" was a Pontiac Aztek, which "gained some fame as the car of Breaking Bad protagonist Walter White."
• According to The Hollywood Reporter, Laura Fraser has been cast in One of Us, a new BBC drama series.
• The Chicago Tribune, DNAinfo Chicago and The (Springfield, Ill.) State Journal-Register provide clues to Bryan Cranston's upcoming appearance on TLC's Who Do You Think You Are?
• Entertainment Weekly notices Lavell Crawford's brief appearance in American Ultra, declaring, "I choose to believe he's still playing Huell from Breaking Bad."
• Guns.com showcases Mythbusters' test of Walt's homemade remotely-activated M60 machine gun from the Breaking Bad finale, with some help from Vince Gilligan.
• What Culture checks out the show's 12 best cult heroes, "the characters who stole our hearts despite enjoying relatively little screen time."
• Screen Crush proclaims, "Rev up the RV and break out the hazmat suits, we've cooked up another batch of Breaking Bad facts."
• The Sydney Morning Herald notes that several of the show's cast and crew members "immortalized their bonds" with Breaking Bad-themed tattoos.
• The U.K.'s Dorset Echo speaks with Badfinger's Bob Jackson about the band's song "Baby Blue" being "used in the final episode of Breaking Bad, the producer was a fan and wanted to use the song and it went to number one on the download charts after it was in the show."
• Gigwise takes note of Isaiah Rashad's Breaking Bad references in his song, "Soliloquy," calling it one of the nine greatest pop culture references in popular music.
• Bloody Disgusting checks out decks of playing cards with pop culture themes, such as Breaking Bad.
• Metro spotlights an artist who carves characters, including Walt, out of peanuts.
• TV.com highlights Betsy Brandt's new sitcom, Life in Pieces (debuting Sept. 21 on CBS), noting that the show boasts a "fantastic cast." Another pick is Flesh and Bone (premiering Nov. 8 on Starz), a series from Moira Walley-Beckett ("you have her to thank for "Ozymandias," TV.com points out).
• Uproxx revisits That Thing You Do! (1996) and remembers that "it's crazy how many people who are well-known today are actually in this movie," including Bryan Cranston as Gus Grissom.
Watch full episodes of Breaking Bad on amc.com.
Read More