Press
Bryan Cranston Presents at Tony Awards; Giancarlo Esposito on Favorite Bad Scene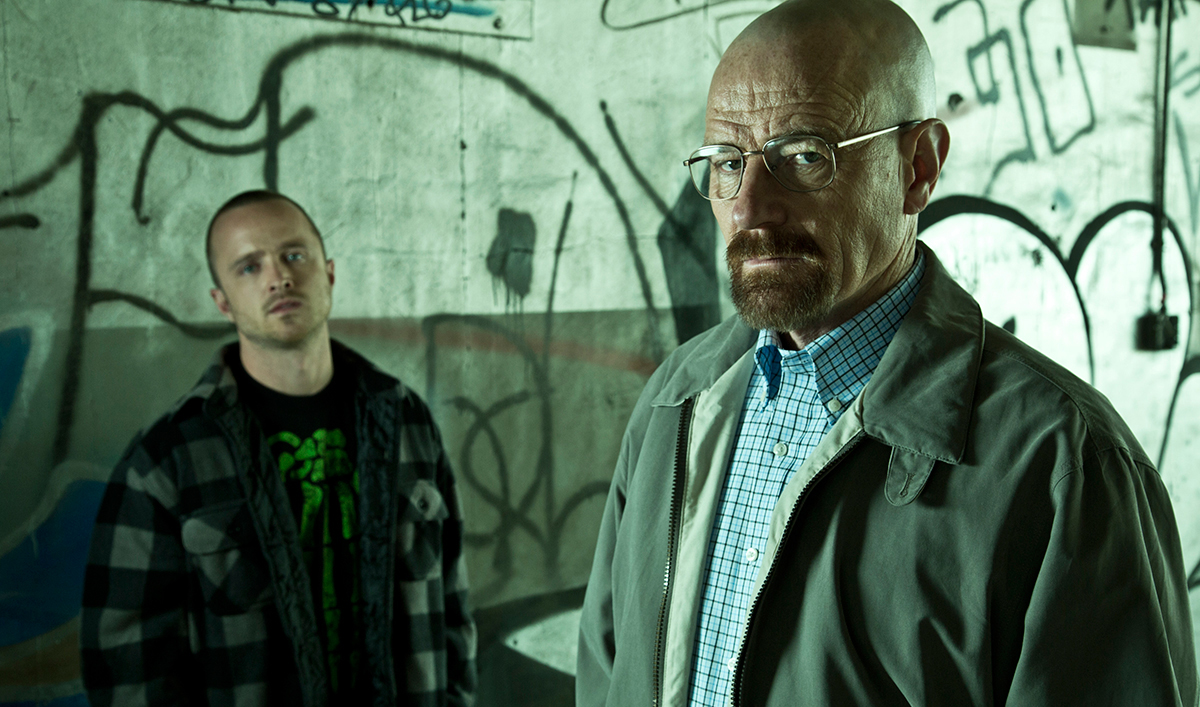 This week, Bryan Cranston presents at the Tony Awards, while Giancarlo Esposito talks about his favorite Breaking Bad scene. Plus, The Hollywood Reporter remembers Skyler's rendition of "Happy Birthday, Mr. President." Read on for more:
• According to USA Today, Bryan Cranston presented the Tony Award for best play to The Curious Incident of the Dog in the Night-Time.
• Giancarlo Esposito tells Tulsa World about a scene he loved in the desert because of the interplay of the sun and clouds: "To me, this is the happy accident in filmmaking when you are shooting on location in the high mesa desert."
• The Hollywood Reporter's list of the most memorable covers of "Happy Birthday, Mr. President" includes Skyler's Season 2 rendition.
• People reports that fans can buy a limited-edition line of "Heisenberg" Blue Ice Vodka.
• Fansided spotlights Matt Jones' tweet about the favorite thing he ever did on Breaking Bad, a scene where "Badger's stupidity clashes with Walter White's wit."
• Broadway World reports that Bryan Cranston wants to return to Broadway in a musical, and, according to Bustle, George Takei thinks that musical should be Breaking Bad – The Musical.
• Speaking of singing, Bryan Cranston tells ABC News that what he sings in the shower is whatever Muzak he's recently heard in the elevator.
• Extra asks Bryan Cranston about appearing on Better Call Saul, and he answers that "if Vince Gilligan wants me to be on Better Call Saul, that's all I have to know."
• Bryan Cranston is the voice behind a new ad for Coors Light called "Place," reports the Chicago Business Journal.
• Dean Norris talks to Variety about the challenge of playing a guest star on Unbreakable Kimmy Schmidt, how "I made it very clear that I don't do a lot of comedy, so you know, be kind and gentle."
• RJ Mitte, honored by the Friends of Californians with Disabilities, says, "I am very lucky to be here today and it's definitely my honor because there are so many people that deal with exactly what I do and we try to bring awareness to so many different aspects of the human condition," Variety reports.
• Broadway World reports that RJ Mitte will star in Triumph, a "semi-autobiographical story of a smart, determined high school senior with ambitions of making the wrestling team despite suffering from cerebral palsy."
• The Hollywood Reporter checks out a YouTube short that "pairs audio from Walter White's greatest speeches — from 'Say my name' to 'I am the danger' — to visuals" from SpongeBob.
• Broadway World features Breaking Bard — "all 62 episodes of the hit television series Breaking Bad, presented in one hour, in Shakespearean verse" — at the Hollywood Fringe Festival this month.
• The New York Post reveals that The '70's, an episode of a CNN documentary series airing next week, will feature an interview with Vince Gilligan.
• Moviepilot ranks Breaking Bad the second-best show of the last decade, noting that it "consists of some of the most irresistible characters, nail-biting suspense, and downright heart-breaking moments you'll find in any television series."
• The Orange County Register recommends binge-watching Breaking Bad this summer: "the last two [seasons] are A+, and then some."
• Uproxx relives the best moments from Season 2.
• Robert Forster talks to L'Italo Americano about his turn on Breaking Bad, adding, "I have yet to be asked to be in Better Call Saul, one of these days perhaps."
• Fansided checks out an artist's "insanely detailed" rendering of the cabin that Walt fled to in New Hampshire.
• Variety reports that Jesse Plemons has joined the cast of Mena, a suspense-comedy starring Tom Cruise and directed by Doug Liman.
Watch full episodes of Breaking Bad on amc.com.
Read More