Press
Syracuse.com Lauds Breaking Bad Soundtrack; MythBusters to Test Bad Finale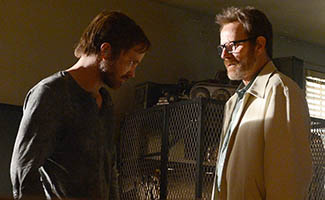 This week, Syracuse.com lauds Breaking Bad's soundtrack, while MythBusters will test the events of Breaking Bad's series finale. Plus, TV Overmind is excited for "the continued reign of Vince Gilligan" on television. Read on for more:
• Syracuse.com ranks the 10 TV shows with "truly phenomenal" soundtracks and places Breaking Bad at No. 3, saying, "A great show needs a great soundtrack, and that's what Vince Gilligan gives us."
• CNET reports that in the new season of the Discovery Channel's MythBusters, the team will test Walt's use of the M-60 in the Breaking Bad series finale.
• TV Overmind is excited this year for "the continued reign of Vince Gilligan," citing both Better Call Saul and CBS' Battle Creek.

• According to E! Online, Peter Gould says definitively that Walt (Bryan Cranston) and Jesse (Aaron Paul) will not appear in Season 1 of Better Call Saul. Similarly, Aaron Paul, talking to Ireland's Independent.ie, says, "I won't be in the first season but I hope to pop up in the future."
• Entertainment Weekly celebrates bit players on your favorite TV shows, including Kevin Rankin (Kenny), who "has the ability to seamlessly adapt to any role and will probably find himself headlining a TV show of his own in the near future."
• Bill Burr tells Stuff.co.nz that playing Kuby was "one of the coolest things I've ever got to do in this business."
• SundanceTV's quiz tests how well you know Breaking Bad and "all things Heisenberg."
• According to The Hollywood Reporter, Bryan Cranston will be a guest in Season 4 of Showtime's Inside Comedy.
• Starcasm shares photos from the History Channel's upcoming Sons of Liberty, calling the post "essentially just an excuse to share photos of Dean Norris in character — or in other words, share photos of DEA agent Hank Schrader as Benjamin Franklin."
• On the occasion of Malcolm in the Middle's 15th anniversary, Yahoo TV celebrates Bryan Cranston's craziest moments on that show.
• Ahead of Battle Creek's Mar. 1 debut on CBS, What Culture notes that the show's selling point is Vince Gilligan.
• International Business Times spotlights Bryan Cranston's long-ago commercial for the Atari 2600's "MegaForce," declaring it's "awesome to see the young Cranston as a super-elite fighter."
To stay up-to-date on the latest news about Breaking Bad, sign up for the newsletter Breaking News.
Read More