Press
HuffPost Remembers Breaking Bad's Emmy Sweep; Pedro Almodóvar Talks Up Bad to FT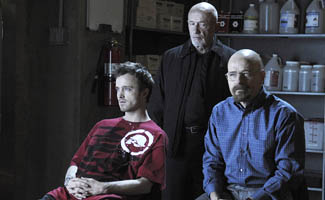 This week, The Huffington Post remembers Breaking Bad's Emmys sweep, while Pedro Almodóvar talks up Breaking Bad to the Financial Times. Plus, Screen Junkies is still traumatized by Walt's death. Read on for more:
• The Huffington Post lists all that was good in pop culture in 2014, including "The Breaking Bad Emmys sweep."
• The Financial Times takes tea with Pedro Almodóvar, who calls Breaking Bad "the culmination of American fictional TV" and describes it as "early Scorsese, the most brutal, most acid television."
• Screen Junkies was scarred by Walt's death, noting, "[Bryan] Cranston's Walter White is nonpareil in his ability to have us all sympathize for a man who was very clearly, well, bad."

• RJ Mitte tells The Guardian how his disability makes him a better actor: "Without [my] disability I wouldn't understand half the things I do today. You grow, you learn and you suffer – and it gives you more understanding of aspects of this world."
• The Los Angeles Times spotlights the debut of CBS' Battle Creek, which was created by Vince Gilligan and features a "sharp, Gilligan-influenced tone, flashes of black comedy and non-network sensibilities." Entertainment Weekly has a first look at Battle Creek, via a trailer.
• Entertainment Weekly reports that Mark Margolis (Hector Salamanca) will play the character of Felix Faust in an upcoming episode of NBC's Constantine.
• A.V. Club applauds the "top-shelf cast," which includes Dean Norris, of Sons of Liberty — and notes that watching the History Channel miniseries will likely lead viewers to "re-watch Norris in Breaking Bad."
• Fansided recommends watching Breaking Bad on Netflix because "if you haven't watched them, you're seriously missing out on the best close to a series in the history of television."
• Esquire touts Triple Nine, with an "all-star cast" that features Aaron Paul, as one of the movies to watch for in 2015.
• The Stage revisits the U.S. theatre season that was, including Bryan Cranston's Tony-winning turn in All the Way.
• Cinema Blaze counts Godzilla as one of 2014's top 10 action movies, citing "stellar performances" from stars like Bryan Cranston.
• SundanceTV is offering viewers the chance to win a copy of AMC's Breaking Bad comic book.
To stay up-to-date on the latest news about Breaking Bad, sign up for the newsletter Breaking News.
Read More