Press
Breaking Bad Wins Producing, Casting Awards; Bill Gates Talks Up Bad in Vox Q&A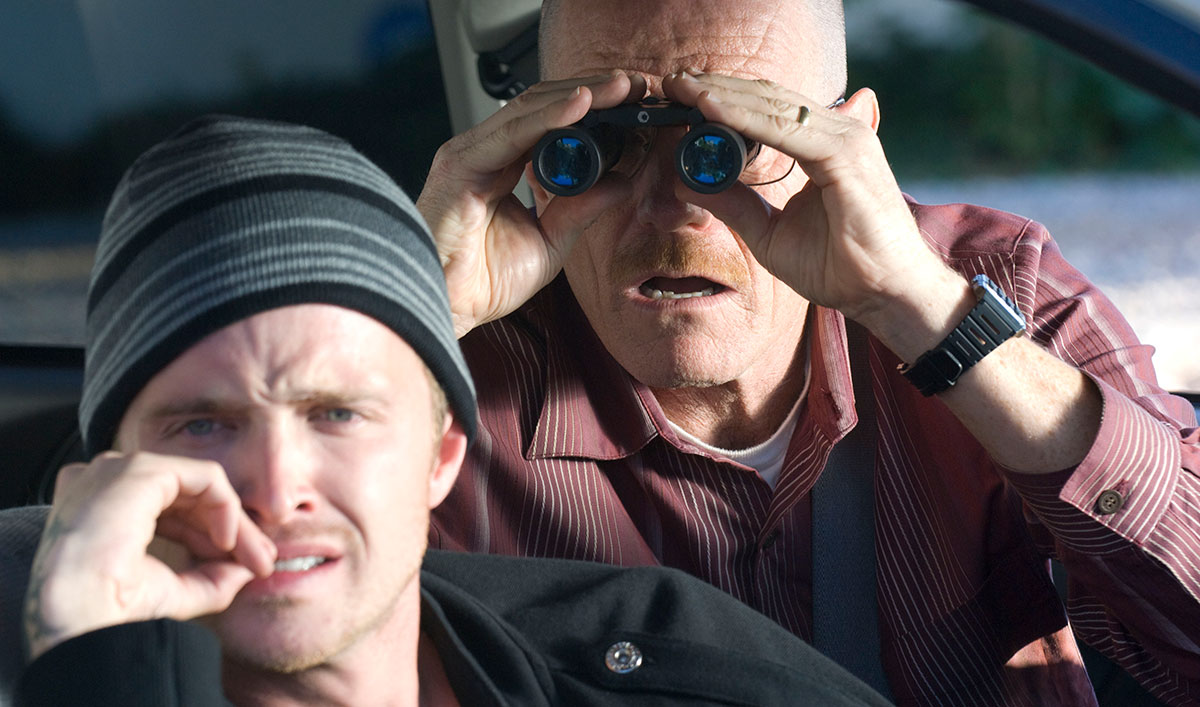 This week, Breaking Bad wins awards from the Producers Guild of America and the Casting Society of America, while Bill Gates talks up the show in a Vox interview. Plus, Dean Norris shows up on Conan. Read on for more:
• The Hollywood Reporter reports that Breaking Bad won the Producers Guild of America's Norman Felton Award for Outstanding Producer of Episodic Television, Drama. In its live blog of the event, Deadline has some snippets of Bryan Cranston's acceptance speech.
• Breaking Bad won a Casting Society of America Artios Award in the Television Series Drama category, according to The Hollywood Reporter.
• Bill Gates, interviewed by Vox, invokes Breaking Bad and its complexity in his explanation of how the world is improving.

• On Conan, Dean Norris discusses one of his favorite Breaking Bad scenes, in which he had to fight the UFC's Keith Jardine in Season 3's "I.F.T."
• Dean Norris, interviewed by Yahoo TV, says he signed on to star as Benjamin Franklin in Sons of Liberty because he's "continuing to try to do stuff that's the opposite of Hank in Breaking Bad. That's my guiding principle for the first few things I get to do."
• Shonda Rhimes tells USA Today, "I'm still very sad that Breaking Bad is gone and I'm considering re-watching the whole series now that I know what happens."
• The Boston Globe applauds the trend of TV characters developing and transforming over the course of a series, "the kind of shift we watched Bryan Cranston navigate as Walt on Breaking Bad."
• TheWrap uses Bryan Cranston as an example of how actors over the age of 50 have shaken up their careers, by "finding fulfillment on the small screen" in his case.
• Ireland's Sunday World interviews Aaron Paul, who says he enjoys interacting with fans because they "love Jesse and love Breaking Bad so I'm happy to meet fans and pose for pictures."
• The Telegraph explains how binge-watching has changed TV forever and ranks the "Heisenberglorious" Breaking Bad as the No. 3 series people are most likely to binge-watch.
• What Culture has "decided to take all 5 seasons of Breaking Bad and boil them down into 60 seconds."
• 411mania.com considers Gus one of TV's top five villains because "Giancarlo Esposito's terrifying meth dealer had a charitable facade, but underneath he was a ruthless murderer who would do anything to protect his own interests."
• The Toronto Sun names "Drive," a Season 6 episode of The X-Files as one of the series' five must-see episodes, noting that Vince Gilligan wrote it and Bryan Cranston was a key player in it.
• The Boston Herald, reviewing the History Channel's Sons of Liberty, applauds the "terrific bit of counter-casting" that is Dean Norris as Benjamin Franklin.
• News.com.au points out that Aaron Paul played a high school student in Whatever It Takes (2000).
• Similarly, Digital Spy notes that Laura Fraser appeared in 1999's Virtual Sexuality, one of "our favorite '90s teen movies."
To stay up-to-date on the latest news about Breaking Bad, sign up for the newsletter Breaking News.
Read More