Press
LA Times on Dean Norris, Character Actors; WhatCulture Eager for Vince Gilligan Show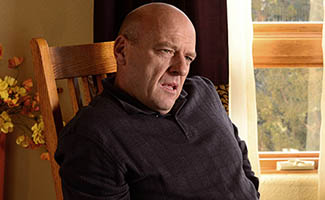 This week, the Los Angeles Times examines the rise of character actors like Dean Norris, while WhatCulture is eager for Vince Gilligan's Battle Creek. Plus, International Business Times recommends binge-watching Breaking Bad. Read on for more:
• The Los Angeles Times lauds the rise of the character actor, citing Dean Norris as an example.
• Vince Gilligan's Battle Creek, debuting March 1 on CBS, is one of WhatCulture's most anticipated TV shows of 2015 because "it's the new series from Breaking Bad's Vince Gilligan."
• International Business Times advises catching up on all five of Breaking Bad's seasons (available on Netflix) ahead of Better Call Saul's February premiere.

• Chicago's WTTW interviews Marius Stan, who talks about his Breaking Bad experience, as well as the similarities between science and moviemaking.
• National Post uses Breaking Bad as an example to teach readers financial lessons, namely planning for illness or death.
• Entrepreneur advises Breaking Bad superfans to head to Albuquerque for a vacation.
• One of the six web series that The Wall Street Journal is keeping an eye on is Tightrope on Crackle because Bryan Cranston is producing the comedy.
• NY1's Broadway review cites All the Way as one of 2014's top 10 productions, declaring it was Bryan Cranston's "stunning turn that turned this one a huge winner." The Irish Times was also impressed by "Bryan Cranston's utterly gripping Lyndon Baines Johnson."
• According to Forbes, one of the great films that didn't get the audience it deserved in 2014 was Decoding Annie Parker, which has a "murderer's row cast" including Aaron Paul.
• Uproxx looks at 10 actors who guest-starred on The X-Files before they became famous, including Bryan Cranston, Aaron Paul and Dean Norris.
To stay up-to-date on the latest news about Breaking Bad, sign up for the newsletter Breaking News.
Read More