Press
Bryan Cranston, Vince Gilligan Sing Adieu on Colbert; Aaron Paul Plays Luke Skywalker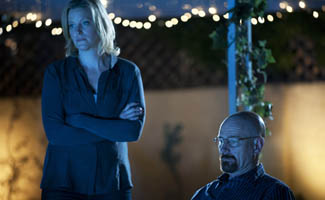 This week, Bryan Cranston and Vince Gilligan bid farewell to The Colbert Report, while Aaron Paul played Luke Skywalker in the live reading of The Empire Strikes Back. Plus, Vulture talks to Cranston and Gilligan about Breaking Bad director Michelle MacLaren. Read on for more:
• Both Bryan Cranston and Vince Gilligan helped see off The Colbert Report in its series finale, and Vulture includes the two of them in an annotated list of a "who's who of who sang good-bye."
• TheWrap and Moviepilot have accounts of Jason Reitman's live read of The Empire Strikes Back, which featured Aaron Paul as Luke Skywalker, and Entertainment Weekly has photos from the event.
• Vulture, calling Michelle MacLaren the best director on TV, talks to Bryan Cranston and Vince Gilligan about her "striking, cinematic, visual storytelling."

• Talking to VH1, Krysten Ritter reveals what her reaction was when Walt told Jesse that he let Jane die.
• Gizmodo UK points out that Breaking Bad is one of the four best shows that can be streamed in 4K right now, calling the technology "the absolute greatest way" to experience the drama.
• The 1986 Fleetwood Bounder RV appears on the BBC's list of the most famous cars of television and film.
• The Toronto Star's TV-themed list of holiday gifts includes Breaking Bad merchandise such as "cool hockey jerseys with Walter White's alias on the front and '99' (the purity of Walt's meth) on the back."
• The Huffington Post's last-minute gift suggestions include a "Let's Cook" Breaking Bad apron.
• The Associated Press chooses All the Way, for which Bryan Cranston won a Tony, as one of the year's top 10 theater productions.
• A.V. Club considers Godzilla one of 2014's best movie trailers, asking, "Who needs more than a passing glimpse of the titular monster when you have Bryan Cranston bellowing about the end of the world?"
To stay up-to-date on the latest news about Breaking Bad, sign up for the newsletter Breaking News.
Read More