Press
Breaking Bad Nominated for PGA Award; Walt Raps in New Super Cut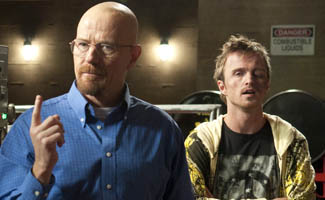 This week, Breaking Bad is nominated for an award by the Producers Guild of America, while Walt raps in a new Breaking Bad super cut. Plus, The Wall Street Journal picks Bryan Cranston kissing Julia Louis-Dreyfus at the Emmys as one of the year's best pop culture moments. Read on for more:
• HitFix and GoldDerby report that Breaking Bad is a nominee for the Producers Guild of America's Norman Felton Award for Outstanding Producer of Episodic Television, Drama. It's up against Downton Abbey, Game of Thrones, House of Cards and True Detective.
• Australia's news.com.au features a Breaking Bad supercut that it calls "two minutes of Bryan Cranston and Aaron Paul awesomeness."
• One of The Wall Street Journal's best pop culture moments from the year was Bryan Cranston and Julia Louis-Dreyfus' "boisterous" kiss at the Emmys.

• TVLine showcases new posters for History Channel's Sons of Liberty, featuring Dean Norris as Benjamin Franklin.
• Moviefone is thankful that AMC "still shows the occasional Breaking Bad marathon."
• Walt ranks #3 on the The Sydney Morning Herald list of TV's greatest hairstyles, which declares that when Walt shaved his head, he "instantly morphed into Heisenberg and things went steadily downhill from there."
• Decider offers its list of the "very best, most definitive episodes" of Breaking Bad.
• RJ Mitte, interviewed by Britain's This Morning, says the part of Walt Jr. seemed tailor-made for him: "In the script, it was dark hair, big eyebrows and cerebral palsy – there you go!"
• Interviewed by Ocean Drive about Breaking Bad, Krysten Ritter says, "I binged the first seven episodes in one day and thought, I want to be on it, and I don't care if anybody sees it. Trusting your instincts like that is a great lesson, because when you listen to your gut, you can't go wrong."
To stay up-to-date on the latest news about Breaking Bad, sign up for the newsletter Breaking News.
Read More