Press
Aaron Paul to Voice Luke Skywalker; Paul, RJ Mitte Discuss Bad Experiences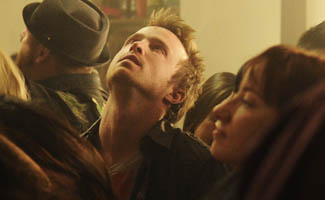 This week, Aaron Paul is playing Luke Skywalker in a live performance of The Empire Strikes Back, while Paul and RJ Mitte talk about their Breaking Bad experiences. Plus, Entertainment Weekly has the Sons of Liberty trailer which features Dean Norris. Read on for more:
• According to Entertainment Weekly, Aaron Paul has been tapped by Jason Reitman to play Luke Skywalker in the director's live read of The Empire Strikes Back (which will be presented on Dec. 18 in Los Angeles).
• Aaron Paul tells Moviefone that Breaking Bad was "the greatest experience in my career for sure hands down" and that Bryan Cranston is one of his best friends.
• Daily Express interviews Aaron Paul, who says, "I'm still mourning the loss of Breaking Bad, and that excitement of getting the new script every week and wondering if I'd get to live or die."

• RJ Mitte talks to Den of Geek about Breaking Bad's pilot because it's "my favourite episode, it has my favourite scenes, and it's my favourite place. It was really amazing what we were able to create in that first episode, and what we were able to bring to life."
• At Entertainment Weekly, catch Dean Norris (as a "boozy" Benjamin Franklin) in the History Channel's "rip-roaring" new trailer for Sons of Liberty, a miniseries that will air next month.
• Krysten Ritter tells The Huffington Post that she would have liked to see Jane "maybe getting sober and staying sober" if she had lived.
• Dorkly lists 10 Breaking Bad Easter eggs "that you missed the first time."
• According to The Hollywood Reporter, Jesse Plemons will appear in Season 2 of Fargo.
• Mashable interviews Aaron Paul about his new "Yo, B*tch" app and how he's "really just trying to give the public what they want."
• Action Figure Fury reports that Mezco is adding a Saul Goodman figure to its Breaking Bad line.
• Moviepilot notes that Bryan Cranston was one of the many luminaries in Saving Private Ryan.
• Dread Central has a clip from Poker Night that features Giancarlo Esposito.
To stay up-to-date on the latest news about Breaking Bad, sign up for the newsletter Breaking News.
Read More