Press
What Culture On What Bad Could Have Been; Steven Michael Quezada Talks Albuquerque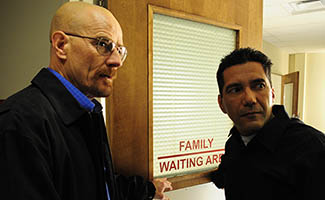 This week, What Culture examines all of the ways in which Breaking Bad was almost completely different, while Steven Michael Quezada talks up Albuquerque's role in the show. Plus, Skip MacDonald wins an editing award for the show's finale. Read on for more:
• What Culture looks at how Breaking Bad was almost completely different than it turned out to be.
• Steven Michael Quezada, who plays DEA Agent Steven Gomez, tells the Albuquerque Journal that the city "lent itself to the creative process. It's a show that will continue to grow even though it's over now. Fans continue to want to know more and that's great for our tourism here."
• According to The Hollywood Reporter, Skip MacDonald won the Hollywood Post Alliance award for editing the finale of Breaking Bad.

• A Special Ops naval officer writes in GQ about being an extra on Breaking Bad and how it showed him "just how bizarre living life as a normal citizen could be."
• The Huffington Post applauds Breaking Bad's attention to detail, how a "flash across the screen of Walter White that might have appeared to mean nothing in season 1 could be an important plot point in season 2 and finally tie up by series end."
• Deadline reports that Sneaky Pete, a drama from Bryan Cranston, has received a production commitment from CBS.
• Entertainment Weekly features a photo of Bryan Cranston in Trumbo, a movie directed by Jay Roach.
• The Associated Press reports that Bryan Cranston will narrate the audiobook for You Have to (Bleeping) Eat, by Adam Mansbach.
• The Albuquerque Journal previews last weekend's Breaking Bad Fan Fest. Albuquerque's KOB Eyewitness News 4 speaks with some fans who attended the event.
• The Huffington Post calls FOX's Gracepoint "engrossing" and Anna Gunn "amazingly enjoyable and sympathetic."
• mxdwn Movies showcases Poker Night's poster, which features Giancarlo Esposito.
• The Argus Observer covers RJ Mitte's inspirational talk about bullying and disabilities.
To stay up-to-date on the latest news about Breaking Bad, sign up for the newsletter Breaking News.
Read More