Press
THR's Most Menacing Bad Quotes; Stephen King Applauds Breaking Bad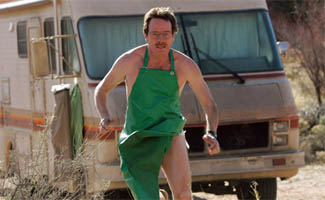 This week, The Hollywood Reporter highlights the most menacing quotes from Breaking Bad, while Stephen King applauds the show in Rolling Stone. Plus, Crave Online offers the best episodes from each season. Read on for more:
• The Hollywood Reporter compiles its list of Breaking Bad's most menacing quotes, such as Gus saying in Season 4 "I will kill your wife, I will kill your son, I will kill your infant daughter."
• Rolling Stone interviews Stephen King, who says the best TV show of the last 15 years was "Breaking Bad. I knew it was great from the first scene you see him wearing jockey shorts. I thought it was amazingly brave since they look so geeky."
• Crave Online picks the best episodes of each season, "the shows that shocked us, thrilled us, and even made us weep. These are the best of the best."

• WhatCulture selects the show's 20 best moments, which "set a new standard for artistic merit, emotional investment and superb cinematography in a mixture not before nor since seen on television, network or cable."
• According to Entertainment Weekly, Dean Norris will guest-star in an episode of TBS' American Dad that will air on Nov. 10.
To stay up-to-date on the latest news about Breaking Bad, sign up for the newsletter Breaking News.
Read More