Press
Breaking Bad Director to Helm Wonder Woman; Anna Gunn to Cameo on Portlandia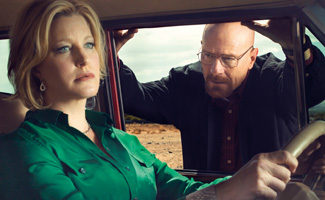 This week, Breaking Bad director Michelle MacLaren will direct the Wonder Woman movie, while Anna Gunn will show up on Portlandia sometime this season. Plus, Marius Stan speaks about how the role of Bogdan became a bigger part. Read on for more:
• Michelle MacLaren has been tapped to develop and direct a Wonder Woman movie, according to The Hollywood Reporter, which notes that she is "perhaps most associated with her directing and executive producing work on the much-loved Breaking Bad."
• According to The Huffington Post, Anna Gunn will make a celebrity cameo on Season 5 of IFC's Portlandia.
• According to The Chicago Maroon, Marius Stan says he didn't expect Bogdan to become a big part: "They asked me if I could say one line, and I said, 'Sure,' and the next day I came back and there were more lines on the page, and after talking to the people in charge, I had a part."
• Daily Racing Form says that Pinkman, a horse named after Jesse, won a race for 2-year-old male trotters at the Meadowlands.
• The Albuquerque Journal reports that a Denny's in the city that was featured on Breaking Bad will close this week.
• Jeremiah Bitsui, who plays Victor, speaks at the Winnipeg Aboriginal Film Festival about turning to acting and away from gang violence, according to CBC/Radio-Canada.
To stay up-to-date on the latest news about Breaking Bad, sign up for the newsletter Breaking News.
Read More