Press
Bill Murray's Bad Cameo in Dumb and Dumber To; Breaking Bad Meets Frozen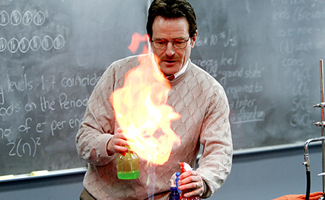 This week, Bill Murray makes a Breaking Bad-themed cameo in Dumb and Dumber To, while Frozen gets the Breaking Bad treatment. Plus, Vince Gilligan will be a featured guest at the NAPTE/Content First industry panel in January. Read on for more:
• The Hollywood Reporter notes that Bill Murray appears in a cameo in Dumb and Dumber To in a Breaking Bad-esque yellow hazmat suit while cooking a batch of crystal meth.
• Time spotlights a Breaking Bad parody of Frozen, remarking that "it's hard not to get a little misty-eyed."
• According to The Hollywood Reporter, Vince Gilligan will appear on a panel at NATPE/Content First's "Storytellers and the shaping of Pop Culture" event in January in Miami Beach.

• The Washington Post looks at the importance of science consultants in film and TV, citing Breaking Bad as an example.
• Giancarlo Esposito tells a Hudson County Community College audience that Gus "had integrity and a very interesting morality that served him, he was meticulous and cared about what he does, and that's very different than some of us," according to The Jersey Journal.
• On CNBC, Jim Cramer discusses Jack in the Box's upcoming earnings report, observing, "This quarter reverberates so loudly that it could move the stock of the fictional Pollos Hermanos of Breaking Bad."
• Entertainment Tonight notes that Bryan Cranston is one of several actors who made their Broadway debuts as Hollywood A-listers.
• The New York Post includes Bryan Cranston, who shaved and grew out his hair for Breaking Bad, in a gallery of celebrities who have shaved their heads.
• DNAinfo talks to Marius Stan about his scientific and acting careers and how "I never would have imagined that this [Breaking Bad] would help me promote science."
To stay up-to-date on the latest news about Breaking Bad, sign up for the newsletter Breaking News.
Read More