Press
Bryan Cranston Skypes With Cancer Patient Fan; AP Interviews Anna Gunn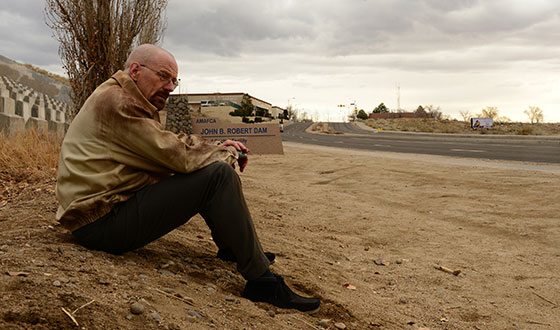 This week, Bryan Cranston has a Skype conversation with a young fan, while Anna Gunn talks to the Associated Press about Gracepoint and playing difficult roles. Plus, The Sydney Morning Herald thinks the series finale was one of the best ever. Read on for more:
• ABC News reports that Bryan Cranston recently Skyped with a young North Carolina man who was diagnosed with brain cancer last year and wanted to meet the actor — and has video of the conversation.
• Anna Gunn tells the Associated Press, "My job is to tell the story that the writer has given me, and tell the truth of the character they've written as well. If it's polarizing and if it makes people uncomfortable, upset, that's something you learn to let go of."
• The Sydney Morning Herald rates Breaking Bad's series finale one of the best ever, commenting that a "complex set of plot threads cross one another in a final knot which delivers one of the most stunning conclusions in television history."

• TV Overmind calls Season 4 "the most most important, complete, and overall best season of Breaking Bad."
• Entertainment Weekly spotlights a course at the University of Maryland called, "Deconstructing Breaking Bad." [No link]
• Zap2it talks to Betsy Brandt about her role on Masters of Sex, noting that "she catches lightning in a bottle again."
• Betsy Brandt tells Yahoo Food how much she loves to bake and how "Vince Gilligan loves pecan pie, which happens to be my favorite to bake."
• The Telegraph names Breaking Bad one of its five must-have TV box sets because it's "a modern great of TV."
• RJ Mitte tells Us Weekly, "I was lucky enough to work on Breaking Bad. Breaking Bad gave me a career. Luckily enough I've been able to work with the best and learn from the best."
• Starpulse considers Walt and Jesse one of TV's best bromances, noting that the two characters "only thrived when they schemed together in their strange partnership."
• Digital Spy, asserting that Breaking Bad "remains as endlessly re-watchable as ever", picks its favorite installments of the show.
• Forbes' review of Men, Women and Children calls Dean Norris' performance "strong."
• Talking to Channel Guide Magazine, Anna Gunn shares that her Gracepoint character "had to start looking at the people in her town, her friends, her cohorts, her compatriots with an eye of suspicion. And that does something to a person, something very deep and rather disturbing."
• The (Cincinnati) News Record reports on RJ Mitte's visit to the University of Cincinnati, where he spoke about overcoming adversity.
To stay up-to-date on the latest news about Breaking Bad, sign up for the newsletter Breaking News.
Read More