Press
Bryan Cranston Advises Elisabeth Moss; Giancarlo Esposito Talks Gus, Bad's Ending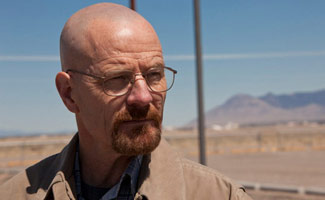 This week, Time has Bryan Cranston's advice to Mad Men's Elisabeth Moss, while Giancarlo Esposito talks about Gus and Breaking Bad's ending to New Zealand's Stuff. Plus, Vince Gilligan gets his own Jeopardy category. Read on for more:
• Elisabeth Moss shares with Time the advice she got from Bryan Cranston about letting go of Peggy after playing her for so long — and says, "Basically I would do anything Bryan Cranston does."
• Giancarlo Esposito, talking to Stuff.co.nz, says of Breaking Bad's ending that "I thought it was deliciously appropriate for Walter to die the way he did."
• Vince Gilligan gets his very own Jeopardy category this week, and Uproxx has the questions and video of the episode.

• The Guardian has behind-the-scenes footage and commentary for the famous "Tread Lightly" scene from the show's final season.
• WhatCulture reveals "20 mind-blowing facts you never knew about Breaking Bad."
• The Telegraph showcases Baking Bad, a cookbook based on Breaking Bad that "takes a rather more gentle approach to Walt and Jesse's recipes, by converting them into sugary treats."
• According to The Hill, Bryan Cranston will appear onstage at the Veterans Day "Concert for Valor" in Washington, D.C.
• TheWrap posts an exclusive photo of Aaron Paul from Eye in the Sky, a movie directed by Gavin Hood that will be released next year.
• Norman Lear, speaking with TV Guide, calls Breaking Bad "fabulous," while Jonathan Franzen tells The Indianapolis Star that the show is "magnificent."
• Entertainment Weekly reports that F is for Family, an animated comedy starring Bill Burr and based on his stand-up, has been picked up by Netflix.
• Speaking with the Windy City Times about his anti-bullying work, RJ Mitte also shares that he's shooting a movie called Dixieland and recently shot a movie called Who's Driving Doug?
• Bryan Cranston is nominated for one of Logo TV's 2014 New Now Next Awards, in the category of best new Broadway lead actor, says Newser.
• ScreenCrush calls BoJack Horseman, which features Aaron Paul's voice, "the best original program that Netflix has produced yet."
To stay up-to-date on the latest news about Breaking Bad, sign up for the newsletter Breaking News.
Read More