Press
Anna Gunn Talks Celebrity Fans on Jimmy Kimmel; Bryan Cranston Tweets to Gunn's Show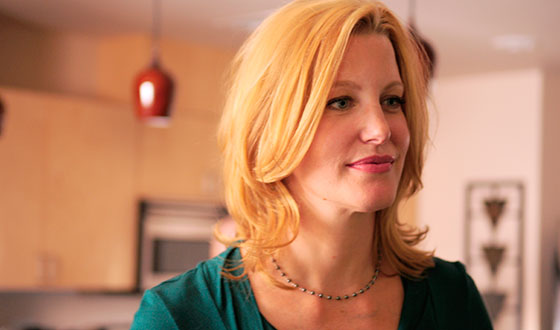 This week, Anna Gunn talks to Jimmy Kimmel about Breaking Bad's celebrity fans, while Bryan Cranston tweets about Gunn's new TV show. Plus, USA Today speaks with Gunn about her Gracepoint character vs. Skyler. Read on for more:
• On Jimmy Kimmel Live!, Anna Gunn talks about meeting Breaking Bad's celebrity fans, including Warren Buffett and Keith Richards.
• According to Digital Spy, Bryan Cranston weighs in on Anna Gunn's new TV series, tweeting, "I saw that new show Gracepoint. It's damn good. And the hot female detective looks like my ex-wife."
• USA Today interviews Anna Gunn, who says of her Gracepoint character, that "the audience gets to be in on her private moments and her internal emotions and thoughts. You really never got that with Skyler, because the storytelling was not about that."

• Anna Gunn tells HitFix that the many awards won by her and the Breaking Bad cast and crew at the most recent Emmy ceremony were "a dream ending to what was really an extraordinary experience in all of our lives."
• The Toronto Star reports that the inaugural Breaking Bad Fan Fest — for "those fans who can't break up with Breaking Bad" — will take place next month in Albuquerque.
• According to The Hollywood Reporter, Giancarlo Esposito has booked a role in Maze Runner: The Scorch Trials.
• TV Overmind looks back at five twists from Season 3 "that still amaze us to this day."
• MStars checks out Giancarlo Esposito's top five scariest moments as Gus, "the deadly criminal mastermind."
• The Huffington Post details business lessons from Breaking Bad, calling the series "a crash course for entrepreneurs."
• Gotham News takes a look at a Vamanos Pest version of Jesse that will be available this week at New York Comic Con.
• What are Aaron Paul's best non-Breaking Bad roles? TV Overmind has five candidates.
• Deadline reports that Gracepoint, starring Anna Gunn, has been sold to Foxtel in Australia and Global TV in Canada.
• According to Variety, FX has given a pilot order to a comedy series starring Bill Burr called Pariah.
• Weekly Alibi calls BoJack Horseman, which features Aaron Paul's voice, "a surprisingly dark and emotional ride through the bad side of Hollywood, with talking animals."
• Speaking at the University of Tennessee, RJ Mitte cautioned students that social media is "the resume of who you are, people will see what you do and say and use it against you," according to the Knoxville News Sentinel.
To stay up-to-date on the latest news about Breaking Bad, sign up for the newsletter Breaking News.
Read More