Press
Aaron Paul Reunites With the RV; Anna Gunn Talks Skyler, Marie With NY Times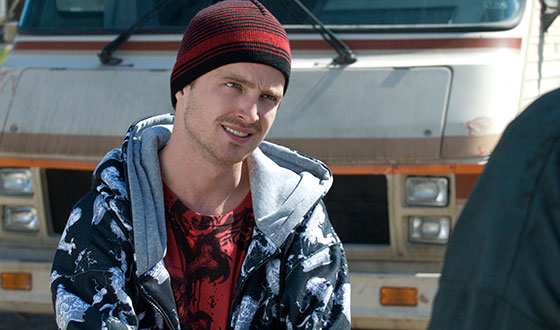 This week, Aaron Paul has a reunion with the Breaking Bad RV, while Anna Gunn tells The New York Times what she wants to happen to Skyler. Plus, Giancarlo Esposito is interviewed about Gus by The New Zealand Herald. Read on for more:
• The Mirror reports on Aaron Paul's reunion with Jesse and Walt's infamous R.V., noting that the actor gave the "worn-and-torn camper van a big hug."
• The New York Times interviews Anna Gunn, who says she likes to think that Skyler and Marie "ended up making peace with each other, and went off to a tropical island and opened a beach hotel."
• According to Variety, Anna Gunn talks about getting immersed in the Gracepoint story "because when the writing is that good you can lose yourself in it, and when you're going through grief for 13 hours a day sometimes it's hard to shed that at the end of the day."

• The New Zealand Herald interviews Giancarlo Esposito, who says, "Gus had a very interesting integrity and elegance about him. And I think that is what happened in season four. People went from thinking he was only a villain to being on his side."
• Ahead of Better Call Saul's debut next year, What Culture lists 10 other Breaking Bad characters who deserve their own spinoff.
• A.V. Club credits Breaking Bad with opening up "new territory for the TV drama: television about scientists."
• The Sydney Morning Herald thinks Breaking Bad is trying to tell viewers that "crime doesn't pay."
• Esquire calls Ralph Steadman's covers for Breaking Bad's limited-edition Blu-ray Steelbooks "amazing."
• Cosmopolitan UK spotlights a makeup artist who transformed herself into Walt, as well as other famous movie and TV characters.
• Moviepilot thinks Aaron Paul could play the Joker, since "Jesse was a broken, angry, desperate, emotional character."
To stay up-to-date on the latest news about Breaking Bad, sign up for the newsletter Breaking News.
Read More