Press
TV Guide Lauds Bryan Cranston's Emmy Win; Washington Post Praises Skyler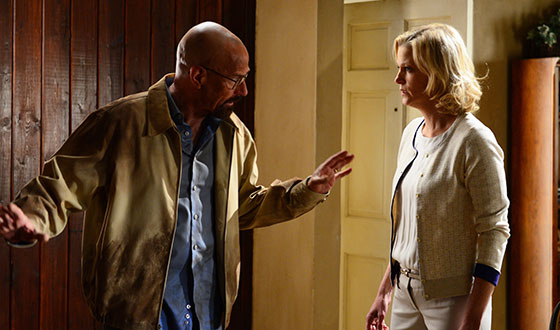 This week, TV Guide applauds Bryan Cranston's Emmy triumph, while The Washington Post thinks Anna Gunn's performance as Skyler changed television. Plus, Aaron Paul shows up on Jimmy Kimmel's show. Read on for more:
• TV Guide mega-raves, "While his win was a bit of a shock, I couldn't be happier that the TV Academy decided to honor Bryan Cranston one last time for his stunning work during Breaking Bad's homestretch."
• The Washington Post praises Anna Gunn's Emmy win because her performance as Skyler marks the end of a time when shows "could get away with writing anti-heroes' wives as flat, cartoonish characters, or when audiences could get away with worshiping difficult men without encountering strong opposition."
• TheWrap shares a video of Aaron Paul on Jimmy Kimmel Live talking about his pre-Emmys Breaking Bad scavenger hunt, while The Daily Caller features clips of Paul in the same interview discussing his birth on a bathroom floor and receiving a Run-D.M.C. outfit for his latest Emmy.

• New York Magazine reports that billionaire Breaking Bad superfan Warren Buffett celebrated his birthday this year with a Breaking Bad-themed cake.
• Digital Spy has a video of Jimmy Kimmel Live's Guillermo Rodriguez conducting "back-to-back" post-Emmy interviews with Bryan Cranston and Aaron Paul.
• The Hollywood Reporter highlights that the entire series is available again in Blu-ray in a replica of Walt's money barrels.
• Den of Geek examines episode titles and cites Breaking Bad's series finale, "Felina," as an example of a title that mixes "several elements of the episode, its characters and the wider show in a cryptic manner."
• Mic points out that Albuquerque "has become a new location hotspot for Hollywood thanks to Breaking Bad."
• Deadline reports that Bryan Cranston's production company has sold a single-camera comedy called The Dangerous Book for Boys to NBC.
• Yahoo TV showcases Dean Norris' transformation into Benjamin Franklin for a History Channel miniseries, Sons of Liberty.
• Channel Guide Magazine is "hooked and ecstatic to see Breaking Bad's Anna Gunn in another complicated family situation" in FOX's Gracepoint this fall.
• Moira Walley-Beckett talks to the Canadian Press about her reaction to winning an Emmy for writing "Ozymandias."
• The Huffington Post is excited about Men, Women and Children, "a sprawling ensemble drama about families, infidelity and the Internet" directed by Jason Reitman and featuring Dean Norris, that hits theaters Oct. 3.
• According to The Hollywood Reporter, Netflix has renewed BoJack Horseman, which boasts Aaron Paul as a voice actor and producer.
• John Shiban, the showrunner of Da Vinci's Demons, tells Entertainment Weekly what he learned from Breaking Bad that he's incorporating into the Starz drama.
To stay up-to-date on the latest news about Breaking Bad, sign up for the newsletter Breaking News.
Read More