Press
EW Talks "Ozymandias" With Writer, Director; Bryan Cranston's One-Man Baseball Show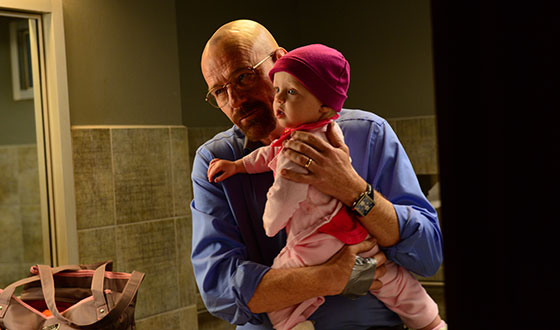 This week, Entertainment Weekly talks to Rian Johnson and Moira Walley-Beckett about the triumph of "Ozymandias," while Bryan Cranston does a faux one-man show ahead of baseball's post-season. Plus, Anna Gunn discusses the difference between Skyler and her Gracepoint character. Read on for more:
• Moira Walley-Beckett and Rian Johnson chat with Entertainment Weekly about Season 5, Episode 14, "Ozymandias," an "hour of punishing and mesmerizing television."
• "We could think of no finer use for Bryan Cranston's talents, post-Breaking Bad, than a video that is almost six minutes where he performs a fake one-man show to promote MLB's postseason," Sporting News says of the TBS promotion.
• Talking to Access Hollywood about her character on FOX's Gracepoint, Anna Gunn points out that "Skyler had to be kind of shut down a bit… but Ellie, she's an open book and she'll tell you what she thinks, good or bad, and she's got vulnerability but she's also really tough." OnMilwaukee.com describes Gracepoint as "by far one of the most promising new shows this fall," partly because of Gunn's presence, while TV Overmind calls Gracepoint a must-watch because "the magnificent Anna Gunn" is one of the stars.

• Giancarlo Esposito's Gus is one of The Sydney Morning Herald's favorite TV villains, remarking, "His bizarre death was in keeping with the exquisite monster he'd proven himself to be."
• OZY discusses "Ozymandias," an episode where "the American ethos was being brutally deconstructed."
• USA Today speaks with the medical experts who consulted on Walt's cancer battle.
• Bill Hader of Saturday Night Live, talking to The Huffington Post, says, "I love the stuff that Bryan Cranston did with Breaking Bad, and knowing him from Malcolm in the Middle and seeing Breaking Bad, and you're like, 'Wow.'"
• RJ Mitte tells the Associated Press that having cerebral palsy in real life, albeit a less severe case, helped him play Walt, Jr. because you "develop a different mentality and you develop a different look at how the world sees you and how you see the world."
• The Albuquerque Journal speaks with the car dealership owner who provided Breaking Bad with vehicles, including Mike's 1992 Buick Century in which he and Walt have a violent confrontation.
• Bustle thinks that a Friends Central Perk pop-up should inspire a Breaking Bad pop-up of Walt and Jesse's RV "and if Bryan Cranston just so happened to show up in tighty-whities, that'd totally be OK too."
• ComicBookMovie.com examines which superhero each member of the Breaking Bad cast could play.
• Reviewing Jason Reitman's Men, Women and Children, JoBlo declares Dean Norris' performance "excellent."
• A.V. Club compliments Betsy Brandt's "continued stellar performance as Barb" on Masters of Sex.
• E! Online reports that Candice Bergen is joining the cast of Vince Gilligan's Battle Creek and will first appear in the seventh episode of the series.
To stay up-to-date on the latest news about Breaking Bad, sign up for the newsletter Breaking News.
Read More