Press
Aaron Paul is Cosmo's Main Celebrity Crush; What RJ Mitte Took From Bad's Set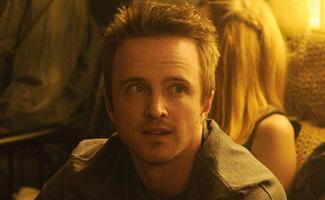 This week, Aaron Paul has been deemed Cosmopolitan's main celebrity crush, while RJ Mitte tells the New York Post what he took from Breaking Bad's set. Plus, Anna Gunn's recent Emmy win upped her Variety Vscore. Read on for more:
• Cosmopolitan proclaims that Aaron Paul has "officially superseded Ryan Gosling as our Main Celeb Crush."
• RJ Mitte reveals to the New York Post that his souvenir from the Breaking Bad set was Walt, Jr.'s crutches.
• Anna Gunn's Vscore (a method of analyzing celebrity star power) was on the rise after her Emmy win, according to Variety.

• Vanity Fair explores the idea of TV time jumps, noting that Breaking Bad "went all in" on the concept during its final season.
• According to The Hollywood Reporter, Lena Dunham tells Jimmy Kimmel about her dad on the Emmys red carpet where he "focused his attention on Bryan Cranston, and whenever Bryan would move from one interview station to the next, my dad would just go, 'Move! Move!'"
• RJ Mitte shows up at Refinery29, where he "built a niche but lucrative market in the back-cubicle dealings of our cereal supply."
• The Huffington Post speaks with RJ Mitte, who talks about how his cerebral palsy taught him to "show pity to bullies."
• TV Guide calls Netflix's BoJack Horseman — which features Aaron Paul as a voice actor and producer — "the funniest show of the fall."
• TVLine applauds Betsy Brandt in Showtime's Masters of Sex for portraying "a character that Brandt has made complex, flawed and completely human."
• Uproxx offers updates about the projects that Breaking Bad's cast is currently working on.
• Albuquerque Business First reports that Breaking Bad gets some of the credit for "continuing to bring travelers to the city and its hotels."
• Digital Spy showcases a series of non-PG boxes and toys based on popular TV programs like Breaking Bad.
• Business 2 Community points out how Breaking Bad is "certainly the most entertaining lesson in brand marketing any marketer can get these days."
To stay up-to-date on the latest news about Breaking Bad, sign up for the newsletter Breaking News.
Read More