Press
Aaron Paul Cast in New Movie; Bryan Cranston Guest Designs for Jesse Tyler Ferguson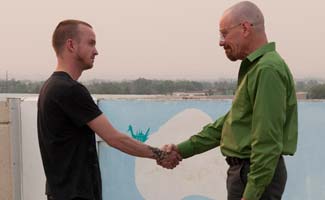 This week, Aaron Paul is cast in a new movie, while Bryan Cranston was a guest designer for Jesse Tyler Ferguson's fall collection. Plus, a Walt bobblehead gets blasted into space. Read on for more:
• According to Variety, Aaron Paul has joined the cast of The 9th Life of Louis Drax, a movie that will be directed by Alexandre Aja.
• GQ notes that Bryan Cranston was a guest designer for Tie the Knot, a non-profit LGBT advocacy organization run by Jesse Tyler Ferguson and his husband.
• A.V. Club reports that some Breaking Bad fans sent a Walt bobblehead into space, a six-hour journey that saw him travel 250 miles.

• Breaking Bad has been nominated for a Casting Society of America award. (No link)
• New York Magazine jokes that Malcolm in the Middle is a Breaking Bad prequel since it was "filled with subplots and images that weirdly anticipated Breaking Bad." (No link)
• See Dean Norris in the new trailer for Jason Reitman's Men, Women and Children at The Hollywood Reporter.
• MediaPost points out Gracepoint's best feature, that "Anna Gunn of Breaking Bad is the star of the show, and she's terrific." Meanwhile, The Guardian deems Gracepoint one of the shows worth watching this fall, and Parade calls it one of the season's hot new shows.
• We Got This Covered asserts that Giancarlo Esposito's Gus is one of six TV bad guys that deserves his own show because "Gus was such an intriguing character that viewers were left begging for more of him. I mean, how awesome would it be if he were to get his own spinoff?"
• MStars showcases RJ Mitte's five "funniest and most dramatic performances" as Walt Jr.
• Texas' Star Local Media considers Breaking Bad its number one binge pick, declaring, "Because there's no show out there more suspenseful or addictive. Because when this show is on, its intensity is almost too much to handle (in a really, really good way)."
• Crushable finds that working moms are underrepresented on TV, with Anna Gunn's Skyler one of the few portrayals out there.
• The Wire remembers that Aaron Paul was a notable guest star on Veronica Mars, remarking, "You love Aaron Paul. We love Aaron Paul. Veronica Mars didn't love Aaron Paul — not that much, anyway."
To stay up-to-date on the latest news about Breaking Bad, sign up for the newsletter Breaking News.
Read More