Uncategorized
Ten Ways to Get Ready for the Breaking Bad Binge This Sunday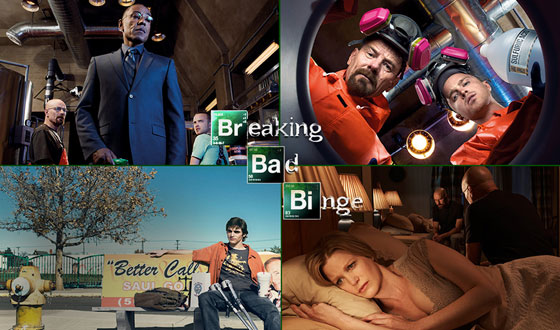 If you feel like something's been missing from your life ever since the Breaking Bad finale last summer, you're in for a treat: AMC will air every episode of Breaking Bad on Sundays from 5PM to 1AM ET starting August 10. Can't wait until then? Here are ten ways to get ready for the baddest binge on television:
1. Bookmark the Binge Companion here for interactive content related to each week's marathon.
2. Listen to the Insider Podcasts, as editor Kelley Dixon discusses the show with regular guest appearances from the cast, crew and creators.
3. Test your Breaking Bad trivia with these Ultimate Fan Games, then challenge your friends to see who among you is the Ultimate Fan.

4. Reacquaint yourself with the cast and crew behind the show with these interviews, featuring chats with Bryan Cranston, Vince Gilligan and others.
5. Watch this video extra from the show, Finding Comedy, in which Vince Gilligan talks about the show's lighter side.
6. Rank your favorite Breaking Bad episodes by season: Season 1, Season 2, Season 3, Season 4, Season 5.
7. If you love the Breaking Bad logo, you can transform your name into an elemental grid with the Breaking Bad Name Lab, then share it on Facebook as your profile picture or cover photo.
8. Revisit the show from Walt's perspective with the Breaking Bad comic recap All Bad Things.
9. Catch up on all the news about the Breaking Bad prequel series, Better Call Saul.
10. Get social! Follow Breaking Bad on Facebook, Twitter, Tumblr and YouTube to keep up to date with all the latest Breaking Bad news and to discuss the show with other fans.
The Breaking Bad Binge begins Sunday, August 10 at 5/4c.
Read More