Press
Bryan Cranston, Aaron Paul Reunite for Emmy Promo; Paul Tells Guardian About Playing Jesse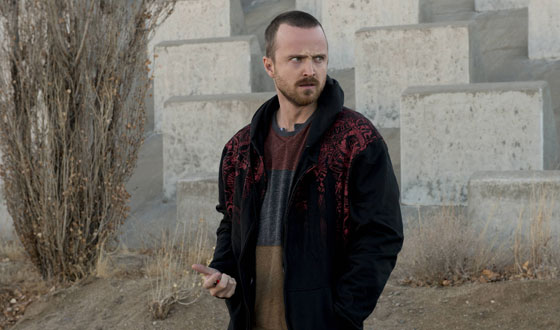 This week, Bryan Cranston and Aaron Paul reunite for an Emmy promo video called Barely Legal Pawn, while Paul talks to The Guardian about his love for Jesse. Plus, the show's editor wins an Emmy. Read on for more:
• Bryan Cranston and Aaron Paul reunite — and are joined by Julia Louis-Dreyfus — for "a hilarious video," according to E!, where the Emmy winners appear in "the crossover we never knew we wanted, but always needed." The Huffington Post recommends watching until the end because "the last line is the best part."
• Aaron Paul tells The Guardian, "I love Jesse. I loved playing him, I miss him. My favorite job hands down – and I think I can speak for everyone involved – was Breaking Bad."
• According to The Hollywood Reporter, Breaking Bad's editor, Skip MacDonald, earned his first Emmy and said on stage, "This is the perfect way to end the run of the show."

• Breaking Bad battles The Sopranos in Entertainment Weekly's TV Fight Club: Breaking Bad's "writing and acting equaled The Sopranos, but added a superior story and more compelling character arc."
• Paul F. Thompson interviews RJ Mitte on Made Man's Speakeasy and tests his knowledge of breakfast cereal in a segment entitled "Breaking Breakfast."
• E! Online looks at 19 characters who lasted way longer than they were supposed to, like Jesse ("If it weren't for the crazy good chemistry between Aaron Paul and Bryan Cranston, Breaking Bad would have been a very different show").
• The Creative Arts Emmy ceremony producer tells The Hollywood Reporter that Vince Gilligan and Matthew Weiner were the first pair of presenters because "We thought: Why not kick it off with two iconic showrunners who we anticipate will get a standing ovation?"
• The New York Daily News advises watching one or two Breaking Bad episodes to prep for the Aug. 25 Emmys, calling it "a good investment of Emmy-prep time, because BB has a good shot at winning several awards, including best drama."
• Newsday chooses Bryan Cranston as the all-time best actor in a drama (over James Gandolfini of The Sopranos, Dennis Franz of NYPD Blue, Hugh Laurie of House, Jon Hamm of Mad Men and Dominic West of The Wire).
• GoldDerby's Tom O'Neil predicts Bryan Cranston will take the best drama actor Emmy because he submitted to the judges "the masterpiece that is 'Ozymandias' – possibly the greatest episode of one of TV's greatest series ever, and one that features the crowning performance of Cranston's impressive career."
• The San Francisco Chronicle forecasts that Anna Gunn will win the best drama actress Emmy this year.
• The San Jose Mercury News expects Breaking Bad to edge out True Detective for the best drama Emmy "thanks to its triumphant — and much buzzed-about — final set of episodes" and thinks Anna Gunn should win the prize for best supporting actress in a drama.
• ChicagoNow predicts that Breaking Bad will (and should) win the Emmys this year for outstanding drama series, lead actor in a drama, supporting actor in a drama, supporting actress in a drama, outstanding writing and outstanding directing.
• The Oregonian thinks Aaron Paul and Anna Gunn will triumph at the Emmys in the drama supporting categories.
• According to the Los Angeles Times, Breaking Bad is responsible for the popularity of the signature black porkpie hat worn by Walt.
• ABC News reports that Bryan Cranston channeled Walt to sign a baseball for Los Angeles Dodgers pitcher Brian Wilson.
• NPR takes a look at TV's new breed of destructive dads, citing Walt as an example.
• The St. Louis Post-Dispatch takes a look at how The X-Files' Chris Carter "assembled a legendary writing room, one whose legacy is still shaping television today," including Vince Gilligan.
• Uproxx highlights Aaron Paul's favorite Jesse scenes, from a scene in the pilot all the way to the final showdown between Walt and Jesse in the series finale.
• Aaron Paul appears on one of the multiple covers of Flaunt's new Distress Back To School issue.
• Oklahoma City's News 9 spotlights Breaking Bad's science adviser, Donna Nelson, who finds herself still in demand even though the show has ended.
• The Independent reports that Walter and Skyler were two of the most popular names for babies in England and Wales last year.
• TV Guide previews FOX's Gracepoint (which premieres Oct. 2), featuring scenes of Anna Gunn with Nick Nolte.
To stay up-to-date on the latest news about Breaking Bad, sign up for the newsletter Breaking News.
Read More