Awards
Breaking Bad Wins a Creative Arts Emmy Award for Best Single-Camera Editing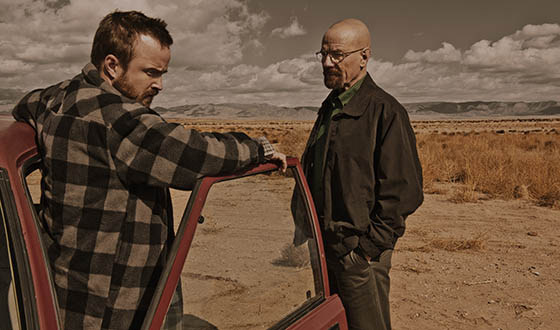 At Sunday night's Creative Arts Emmy Awards, Breaking Bad won the award for Outstanding Single-Camera Picture Editing For a Drama Series. Editor Skip MacDonald received the honor for his work on Season 5, Episode 16, "Felina." MacDonald faced competition from True Detective and two other Breaking Bad episodes, Season 5, Episode 13, "To'hajiilee" and Season 5, Episode 15, "Granite Slate."
This is the first Emmy win for MacDonald, who has been nominated for the award three times.
The Primetime Emmy Awards will be held this Sunday, August 25. Breaking Bad has been nominated for 16 awards, including Outstanding Drama, Outstanding Actor (Bryan Cranston), Outstanding Supporting Actor (Aaron Paul) and Outstanding Supporting Actress (Anna Gunn). AMC's Mad Men and The Walking Dead are also in contention for multiple Emmy awards.
Relive the entire series during the Breaking Bad Binge with back-to-back episodes every Sunday at 5/4c.
Read More