Press
Bad Triumphs at Emmys; Aaron Paul Talks with EW on Emmy Wins and Goodbyes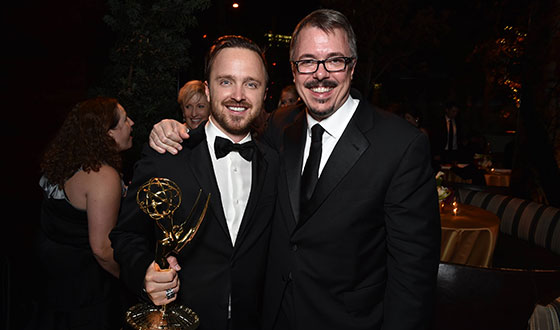 This week, Breaking Bad triumphs at the Emmys, while Aaron Paul tells Entertainment Weekly that the Breaking Bad Emmys sweep is a "damn good" goodbye. Plus, The Hollywood Reporter gathers acclaimed TV creators, Vince Gilligan among them, to talk about their time in television.
• The New York Times reports that Breaking Bad "scored big" at the Emmys, with its second consecutive best drama prize and wins for Bryan Cranston, Anna Gunn, Aaron Paul and Moira Walley-Beckett (for writing Season 5, Episode 14,"Ozymandias"). Vince Gilligan tells the Los Angeles Times that "when Aaron won and then when Anna won and Bryan won I thought, 'Well hell, we might have a real chance here tonight.'"
• Aaron Paul tells Entertainment Weekly that it's "an embarrassment of riches, being involved in something as special as Breaking Bad. This is probably one of the longest goodbyes in television history—and it's a damn good one."
• The Hollywood Reporter gathers 24 of TV's most acclaimed creators, such as Vince Gilligan, who offers this advice: "A good lesson I learned a while back was: pitch something you believe in. Even though it will be more heartbreaking when they say no, on the off chance they say yes, then you're stuck doing it."

• The New York Daily News ranks Breaking Bad as one of TV's 10 best all-time dramas, calling it "compelling to watch." Similarly, SundanceTV names Breaking Bad the best drama ever, describing it as "extraordinary to look at and impossible to turn away from."
• Vulture's rundown of Emmy highs and lows include these highs: Bryan Cranston and Julia Louis-Dreyfus making out (thus reuniting Seinfeld's Tim Whatley and Elaine Benes) and Breaking Bad's "final hurrah."
• The Daily Beast counts Bryan Cranston's acceptance speech ("moving and emotional and thought provoking") as one of the Emmy ceremony's best moments, while Entertainment Weekly ranks it the best speech of the night.
• GoldDerby notes that Bryan Cranston has now tied NYPD Blue's Dennis Franz as the "winningest" best drama actor.
• The Hollywood Reporter reaches out to some of Breaking Bad's writers and directors to detail 10 ways in which the show shocked viewers in its final season.
• Variety reports that Aaron Paul organized a Breaking Bad-themed scavenger hunt ahead of the Emmys, in honor of "the final time Breaking Bad will be up for anything at the Emmys." According to the New York Daily News, Paul enlisted RJ Mitte and Matt L. Jones for clues in the scavenger hunt.
• Moira Walley-Beckett tells The Hollywood Reporter that the hardest part of Season 5, Episode 14, "Ozymandias" to write was Walt's phone conversation with Skyler because Walt is "communicating with Skyler to let her know that he's trying to protect her and within that conversation she has to come to that understanding." Talking to The Vancouver Sun, Walley-Beckett calls Rian Johnson, "Ozymandias"' director, "equally responsible for what a great episode it turned out to be."
• Deadline reports that Aaron Paul has started his own production company and signed a deal with Sony Pictures TV.
• The Hollywood Reporter's nominations for the Alternative Emmys include Dean Norris, calling his omission "such an incredible snub."
• People imagines that Walt would be named "Best Villain" if MTV ran the Emmy awards show.
• Fast Company's Co.Create takes a look at how the "Barely Legal Pawn" video starring Bryan Cranston, Aaron Paul and Julia Louis-Dreyfus came together.
• MStars spotlights Aaron Paul's five best episodes as Jesse.
• Aaron Paul tells Canada's QMI Agency that his new project, Netflix's BoJack Horseman, is lighter than he's used to, observing, "Breaking Bad was funny at times, but this is funny most of the time, so we're having a blast with it."
• Aaron Paul reveals to Rolling Stone that his favorite sitcom is It's Always Sunny in Philadelphia — and that he's jealous Bryan Cranston was a recurring character on Seinfeld.
• Variety reports that Jason Reitman's Men, Women and Children, a drama-comedy featuring Dean Norris, will be released on Oct. 1.
• Canada's Postmedia News designates FOX's Gracepoint, starring Anna Gunn, one of three promising new fall shows, citing its "tense tone and skillful, nuanced performances."
• Parade has a clip from Home Is Where the Heart Is (now available on DVD) that features Jonathan Banks, whose performance is "easily worth the price of admission."
To stay up-to-date on the latest news about Breaking Bad, sign up for the newsletter Breaking News.
Read More